Last week's TBT post featured a game in which the lowly 1968 Buffalo Bills managed a monumental upset victory over that season's eventual Super Bowl champions, the New York Jets. This week's story is similar in that it also involves 2 American Football League rivals of the 1960s, this time from the Western Division, the San Diego (now Los Angeles)Chargers and the Denver Broncos. The 2 clubs, both flagship franchises of the AFL, meet on this week's NFL slate of games. The game we feature this week was played on December 22, 1963 at one of the AFL's venerable old venues, Balboa Stadium in San Diego. Another similarity to last week's feature is that the 2 teams were at opposite ends of the spectrum, with the Chargers a dominating force in the league and the Broncos a doormat. Earlier that year, the lowly Broncos had stunned the Chargers by a rousing 50-34 margin in a barn burner of a game that was typical of the AFL in that era. The similarity ends there, however, as, in this rematch, San Diego was able to extract revenge for the embarrassing defeat they suffered in Denver in October of that season.
San Diego's coach, Sid Gillman, was known as a guru of the modern passing game, as he had orchestrated the offensive juggernaut that was the Los Angeles Rams in the 1950s. Now the head man with the Chargers, Gillman's club was also known for attacking opponents with the long pass, with quarterbacks Tobin Rote and John Hadl alternating at tossing bombs to prolific receivers like Lance "Bambi" Alworth and Don Norton. The Chargers used their rushing attack, which was also a major strength, to dominate this game, however, as Paul Lowe and Keith Lincoln ran for a combined 249 yards and 3 touchdowns. As far as the passing game, Rote and Hadl each tossed a single touchdown throw to a tight end rather than a wide receiver, Rote hitting Dave Kocourek in the second quarter, and Hadl finding Jacque MacKinnon for the final touchdown in what turned out to be a 58-20 rout. The Chargers, perhaps exacting a final bit of revenge, went for and converted a two-point conversion on MacKinnon's TD.
The game was the regular season finale for both clubs, with the Broncos finishing in the basement of the Western Division with a 2-11-1 record. The Chargers, finishing 11-3 and atop the division, rode the momentum of the big win to post another one-sided score in the league championship, routing the Boston Patriots 51-10.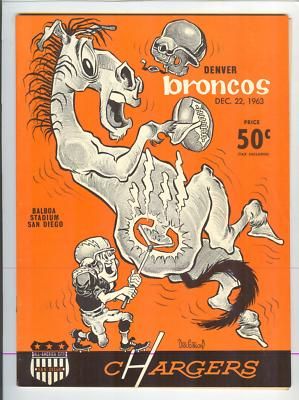 Broncos vs. Chargers game program from 12/22/1963