The Philadelphia Eagles and Los Angeles Rams meet on this week's NFL schedule, and our Throwback Thursday feature for the week is a game played between these 2 franchises on November 22, 1959. The game is significant in that it was the first and only time that future Hall of Fame quarterback Norm Van Brocklin, a Ram star in the 1950s, played against his former club as a Philadelphia Eagle. He had led a powerful Ram attack for most of the decade, but decided to retire after the 1957 season. He later changed his mind, but the Rams had moved on and instead of bringing him back for the '58 season, traded him to the Eagles. It wasn't exactly a "return" for the player nicknamed "The Dutchman", as the game was played at Philadelphia's Franklin Field and not in L.A., and it also wasn't exactly a triumphant display by Van Brocklin in the game either. The Eagles did win, 23-20, to improve their season record to 6-3, but it was a struggle against a Ram club that had won only 2 games all year. The Rams produced more offensive fireworks, as halfback Jon Arnett included an 80 yard run for a touchdown among his 108 yards rushing, while Ram QB Billy Wade fired a TD throw to Red Phillips.
Van Brocklin was efficient enough, completing 19 of 38 passes for 260 yards, spreading the ball around to all his favorite targets – Bobby Walston, Tommy McDonald and Pete Retzlaff among others, but the Eagle TDs came on a 3 yard run by Clarence Peaks and a defensive score on a fumble recovery in the end zone by Jerry Huth. You could actually make the argument that a more important contributor to the Philly win was another ex-Ram who had been exiled and found a home with the Eagles, kicker Paige Cothren, who booted 3 field goals, including a short 14 yarder in the final quarter which proved to be the game-winning points.
The Eagles did go on to finish the '59 season in second place in the Eastern Division, a vast improvement over a 2 win record in 1958, then won the NFL championship in 1960 in The Dutchman's final season. The Rams, meanwhile, didn't win another game, finishing 2-10 after posting an 8-4 mark in '58. That led to the departure of head coach Sid Gillman, who moved on to the American Football League's Los Angeles/San Diego Chargers, where he was highly successful.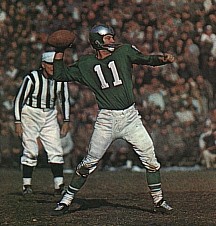 QB Norm Van Brocklin, "The Dutchman"