The Green Bay Packers and Philadelphia Eagles square off this week on the NFL schedule, so we'll highlight a game between these 2 franchises played on Veteran's Day, November 11, 1962. It was the first time the clubs matched up since the Eagles handed Packer coach Vince Lombardi his only post-season loss in the 1960 NFL Championship game. Played at Philadelphia's Franklin Field, this game was hardly the same contest that was played 2 years earlier for the league title. Green Bay entered the game undefeated at 8-0 while the Eagles, who were considered a bit of a one-hit wonder when they won the crown in 1960, had fallen on hard times. Their record was a lowly 1-6-1 and they were slogging their way through a dreadful season. Now Lombardi was a devout Catholic and never known to be a vengeful person, but he was also a fierce competitor who blamed that 1960 defeat largely on himself. He also vowed to his players that it would never happen again and true to his word the Packers never lost another postseason game in his tenure as coach.
The first quarter was relatively quiet, with Green Bay taking a 7-0 lead on a short touchdown run by backup halfback Tom Moore. The flood gates opened in the second quarter, however, as the Packers racked up 28 unanswered points to lead 35-0 at the half. Fullback Jim Taylor scored twice on runs of 5 and 1 yard, while Moore remained a factor as he scored on a 7 yard run and threw a 25 yard halfback option pass touchdown to Boyd Dowler. Lombardi pretty much emptied the Packer playbook in this game, and his club threw a total of 5 of those HB option tosses in the game, 3 by Moore and 2 by the player usually tabbed to run the play, Paul Hornung. Taylor, who rushed for 141 yards on 25 carries for the day, finished the scoring in the third quarter by rushing 4 and 5 yards for TDs, as he found paydirt 4 times on the day. Packer quarterback Bart Starr cruised through the game, hitting timely passes to go with Taylor's ground assault. Dowler and Max McGee both had over 100 receiving yards.
With a 49-0 lead now built up, Lombardi called off the dogs in the final period but his defense continued to manhandle  Eagle QBs Sonny Jurgensen and King Hill. Philly only totaled 86 yards of offense and 3 first downs the entire game on their way to the 49-0 shutout embarrassment. In contrast, Green Bay rolled up 624 yards of offense and a record 37 first downs in the totally one-sided contest. The Packers went on to win their second straight NFL title that season, while the Eagles finished 3-10-1 as they continued a downward spiral for several losing seasons afterwards.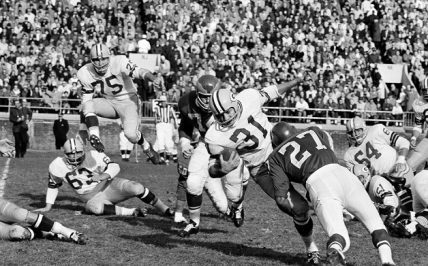 Packers' Jim Taylor (31) dominates the Eagles' defense