Another new NFL season is upon us, which means Rayonsports kicks off it's weekly Thursday Throwback post featuring a contest from yesteryear played between two franchises that are scheduled to meet on the week's slate of games. The Minnesota Vikings and San Francisco 49ers match up on the opening week's schedule, so we travel back to a meeting between these clubs that was played on October 25, 1964. This particular game between Western Division rivals lives on in NFL lore because of a play made by one of the greats of the game, Viking defensive end Jim Marshall, but Marshall would just as soon forget the game. In the fourth quarter of that game, he recovered a 49er fumble and returned it 66 yards, the wrong way, into his own end zone, resulting in a 2-point safety for San Francisco.
The game started out with 49er quarterback John Brodie taking early control, scoring on a 2 yard run and throwing an 80 yard touchdown pass to Dave Parks to give his club a 14-3 lead in the second quarter. Tommy Mason ran for a Viking TD and Tommy Davis kicked a field goal to give San Fran a 17-10 lead at the half. The only third quarter scoring came on a Fred Cox field goal for Minnesota, but the Vikings took control in the fourth quarter, led by their Purple People Eater defense. QB Fran Tarkenton ran for a score, and defensive end Carl Eller scooped a fumble and ran 45 yards for another touchdown. Eller's recovery, incidentally, was made possible by a Marshall sack/strip. Marshall's infamous gaffe came later in the final stanza, but didn't really affect the final outcome as the Vikings won the game 27-22.
It's really a shame that the legendary Viking defender is mostly remembered for his wrong way run. He played 20 years in the league and was a dominant defender, and with this summer's induction of Jerry Kramer into the Pro Football Hall of Fame, Marshall now stands as perhaps the biggest "snub" as far as Hall voting is concerned. He really deserves to be inducted, but doesn't even draw minimal consideration now that his playing days are so far in the past.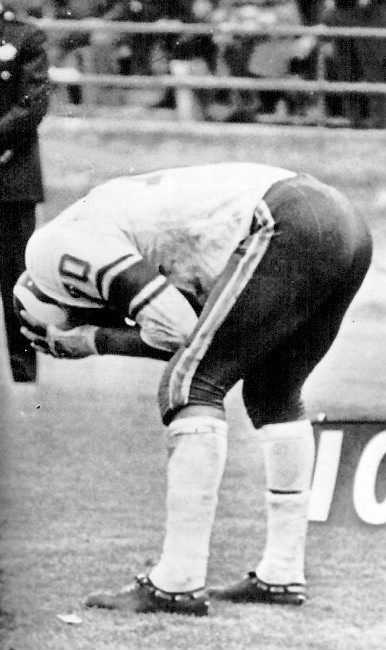 A distraught Jim Marshall after realizing his mistake