The Cleveland Browns and Oakland Raiders match up on the NFL's week four schedule this Sunday, and for this week's Throwback Thursday feature we'll travel back to January 4, 1981, a cold, snowy day in Cleveland when these 2 clubs met in an AFC divisional playoff game. The Raiders were a wild card entry in that year's playoffs, while the Browns enjoyed an 11-5 season in which their quarterback, Brian Sipe, won the league's MVP award in leading his team to the AFC Central Division title. Sipe and his Browns earned the nickname "Kardiac Kids" for their habit of winning close games with come-from-behind victories all year, and this game played out like many of their regular season contests, except for the ending.
Weather conditions would be a big factor in the game, as neither team could muster much offense. The Browns' defense broke a scoreless tie in the second quarter when Ron Bolton returned one of his 2 interceptions of Raider QB Jim Plunkett 42 yards for a touchdown. Mark Van Eeghen tied the score before the first half ended with a one yard plunge for a Raider TD. The only third quarter scoring came on a pair of Don Cockroft field goals for Cleveland, leaving the Browns up 12-7 entering the final quarter. When Van Eeghen scored a second 1-yard TD to put the Raiders up 14-12, Sipe and the Browns were put in their familiar spot of needing a fourth quarter comeback to secure a win. Starting at his own 15 yard line, Sipe masterfully drove his team downfield, reaching the Oakland 13 yard line with 49 seconds to play. The Browns were already in position to kick a game-winning field goal, but because of the severe weather conditions, coach Sam Rutigliano opted to have Sipe throw a pass to All Pro tight end Ozzie Newsome in the end zone to get the win. The decision backfired when Raider safety Mike Davis intercepted the pass, ending Cleveland's season. As a disheartened Sipe came off the field , Rutigliano hugged his signal caller and exclaimed "I love you, Brian!"
The play, which carried the name "Red Right 88", would become the first of the city of Cleveland's infamous gaffes regarding heartbreaking Browns' defeats. "The Drive" starring John Elway and "The Fumble" featuring Earnest Byner would follow in later years. The Browns remain one of the few teams in the NFL to have never played in a Super Bowl (although they were a dominant force in the pre-Super Bowl era). The Raiders took advantage of their good fortune of Rutigliano's decision to pass by going on to defeat the Philadelphia Eagles in the Super Bowl that season.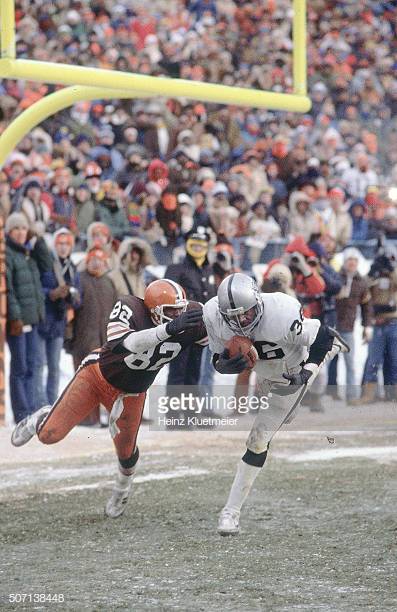 Oakland's Mike Davis seals the win (Getty Images)