On this week's NFL slate of games, the Cincinnati Bengals and Los Angeles Chargers meet, both trying to improve their playoff chances. This week's Throwback Thursday feature harkens back to a game played between these 2 clubs on September 22, 1985 at Riverfront Stadium in Cincinnati. The Chargers, located in San Diego at the time, were in the midst of an offensive era known for explosive plays, drawn up by their coach Don Coryell. Engineered by future Hall of Fame quarterback Dan Fouts and masterminded by the coach, the team's offense was labeled as "Air Coryell". Meanwhile, the Bengals were coached by a guy known to be a bit of a mad genius himself – Sam Wyche. This game was an early season matchup, and an important one for both clubs. The perennially contending Chargers had started off the year with a win and a loss, while Cinci had dropped both of their first games, so they were in desperation mode.
In the first half, the Chargers got a couple of short field goals from Bob Thomas and a couple of short touchdown passes from Fouts to one of his tight ends, Eric Sievers. The Bengals countered with a scoring toss from their southpaw signal caller, Boomer Esaison, to Cris Collinsworth and a one yard TD run by James Brooks, leaving San Diego with a 20-13 lead at the half. Knowing he had to match Fouts' heroics on offense, Esaison put together a solid third quarter, guiding 3 touchdown drives that ended with a Larry Kinnebrew 4 yard TD and passes to paydirt to Collinsworth and Stanford Jennings. Unfortunately for Cincinnati, the Chargers picked up a pair of touchdowns themselves, on a Fouts to Pete Holohan pass and a backbreaking 58 yard Lionel James run, leaving the teams tied at 34-34 entering the final quarter. When Kinnebrew scored again, on an 8 yard run, to open the fourth quarter scoring, the Bengals took a 41-34 lead and were indeed accomplishing their goal of matching the vaunted "Air Coryell" attack score for score. The Charger defense stiffened after that, however, while the offense produced another electrifying touchdown, this time on a Fouts to James 60 yard pass, along with another Thomas field goal to eke out a 44-41 win in a thrilling barnburner of a game.
Collinsworth's efforts in the game were gallant – he caught 10 passes for 161 yards and the 2 TDs, but it was no match for the heroics of the 5'6″ James. Nicknamed "Little Train", he rushed for 127 yards on 12 carries and caught 5 passes from Fouts for another 118 yards, racking up the pair of touchdowns. Overall, the 1985 season wasn't kind to either club. The Chargers went on to record a rare mediocre record of 8-8, while Cincinnati managed only a 7-9 mark. Despite the losing record, Wyche's Bengals still finished second in the AFC Central Division, with Cleveland taking the division crown at 8-8.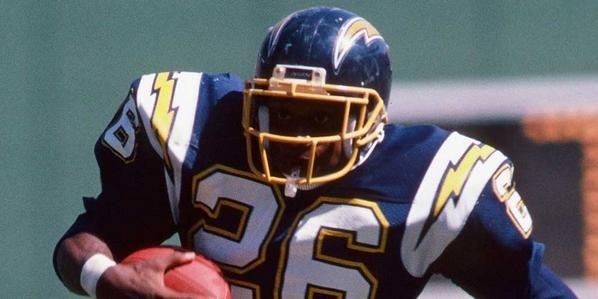 San Diego's Lionel "Little Train" James