This week's Throwback Thursday game features a look back to a playoff game from the 1970 season between two teams who are scheduled to play on this week's NFL schedule, the Dallas Cowboys and Detroit Lions. This game may have been one of least exciting playoff games in league history, unless you're a fan of great defense or inept offense, depending on your perspective. The Cowboys, at the time, possessed one of the NFL's toughest defensive units, the "Doomsday Defense" as they were aptly named, and this game was a showcase for them. They totally throttled Detroit's offense and harassed Lion quarterbacks Greg Landry and Bill Munson, coming up with 3 sacks, an interception and 3 total turnovers, while holding the Lion passing attack to a meager 80 yards.
The problem was that Dallas' passing offense was worse, as their quarterback, Craig Morton, completed only 4 of 18 throws for 22 net yards. Luckily, the Cowboys had a top-notch running back in Duane Thomas, and coach Tom Landry fed him the ball. The talented but moody Thomas carried 30 times for 135 yards in a workman like performance in which his longest run of the day was 16 yards. The Cowboy defense wound up shutting out the Lions, but Dallas could only muster an early field goal. Late in the final quarter, defensive linemen Jethro Pugh and George Andrie combined to sack Landry in the end zone for a safety, boosting the final margin of victory for Landry's club to 5-0. It was more likely of a score between the cities' baseball clubs, the Texas Rangers and Detroit Tigers, than a football score.
Dallas advanced through the NFC playoffs to the Super Bowl that year, where they lost a heartbreaker to the Baltimore Colts on a late field goal in a game that became known as the "Blunder Bowl" since both teams made so many mistakes. Landry ran out of patience with Morton's inconsistency the following season and made a change at quarterback, launching the dynamic career of future Hall of Famer Roger Staubach.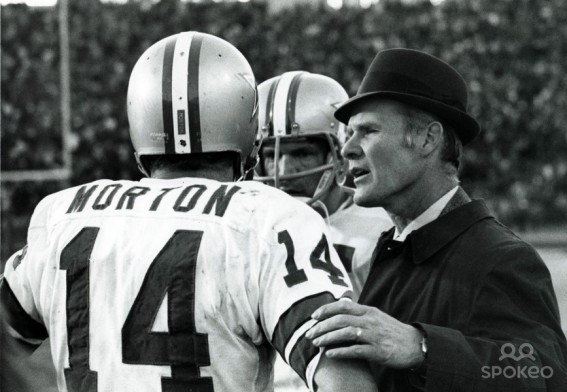 Dallas QB Craig Morton and coach Tom Landry discuss strategy (photo courtesy of Spokeo.com)