The NFL's 100th season begins this week, and the regular season campaign for the Buffalo Bills will also be a historic one – the 60th in team history. Here is our preview of the Bills' prospects for 2019, position by position:
Front Office/Coaching
After breaking their playoff drought in 2017, the Bills took a step back last season, laboring through a lot of changes at the quarterback position and falling to a disappointing 6-10 record. General manager Brandon Beane and coach Sean McDermott didn't waste any time remaking both the coaching staff and the roster to try and improve the team's fortunes in 2019. Beane was extremely active in free agency, not going after splash names but filling out the roster with solid pros at positions of need. McDermott kept his coordinators in place on defense and offense but made a change where it was needed, bringing in Heath Farwell as special teams coordinator in place of a holdover from previous regimes in Danny Crossman. He also brought in a true QB coach in Ken Dorsey to work with young Josh Allen and new coaches for the offensive line and wide receivers.
Quarterbacks
Veteran backup QB Matt Barkley
Unlike the beginning of last season, there is stability at the quarterback position for the Bills entering 2019. One positive outcome of the disappointing 2018 record was the establishment of Josh Allen as the starting signal caller. Not to be overlooked, however, is the presence of veteran Matt Barkley as the backup. He was signed almost as a panic move when poor play and injuries riddled the position last year, but he has settled in and been a revelation as the perfect complement to Allen. Allen still has a lot to prove, but by the end of last season was beginning to show that he "gets it". It will be interesting to see how much faith Dorsey and offensive coordinator Brian Daboll show in their rising star.
Running Backs
Rookie RB Devin Singletary
Buffalo's rushing attack was abysmal last season, save for Allen's scrambling yardage, but it's surprising that entering 2019 only fullback Pat DiMarco, who basically never carries the ball, is the only returning player in the RB room. The shocking release of LeSean McCoy puts the spotlight on rookie Devin Singletary, who the GM and coach seem to like a lot. Veteran Frank Gore was signed in the off-season and he not only should be a better mentor to Singletary than McCoy would've been, but still has enough left in the tank to provide some help for the run game. T.J. Yeldon, a veteran signed away from Jacksonville, was quiet in the preseason but is an interesting prospect. He has a lot of skill in the passing game and is a competent rusher also. The Bills' 3 backs all have different, but complementary skill sets and should work together well as a unit.
Receivers
WR Cole Beasley
The receiving corps was another area of the team that needed upgrades from 2018 and GM Beane accomplished that by signing a couple of savvy veterans to help his young quarterback. They are John Brown, a legitimate deep threat, and Cole Beasley, longtime Dallas Cowboy slot receiver who should develop into Josh Allen's security blanket. Brown was a favorite target of Joe Flacco in Baltimore last year, then fell out of favor when Lamar Jackson took over as starting QB. There are 3 holdovers from last season – Zay Jones, who found some chemistry with Allen last season and led the team in receiving and who should be poised for a breakout year, Robert Foster, who became a deep threat after being brought up from the practice squad, and Isaiah McKenzie, who had success as a "gadget" player, running jet sweeps and in the passing game. Another free agent signee, Andre Roberts, was brought in mostly to upgrade the kick return game but earned playing time as a receiver during training camp also. The tight end group was also completely changed. Four of them made the final roster, including veteran Tyler Kroft, a free agent from the Bengals. He is still recovering from a foot injury but should be a big part of the offensive plans when healthy. Veteran Lee Smith is strictly a blocking TE and is also valued for his locker room leadership. Rounding out the group are a pair of rookies with vast potential – third round draft pick Dawson Knox and seventh round pick Tommy Sweeney. Both looked like they belong in limited preseason appearances and should have bigger roles once the season gets rolling, or possibly sooner if Kroft misses significant time.
Offensive Line
New center Mitch Morse (Getty Images)
Buffalo totally revamped their offensive line group. They kept 10 on their 53 man roster, and only 3, guard Ike Boettger and tackles Conor McDermott and Dion Dawkins, are holdovers from last year. Boettger and McDermott had zero impact in 2018 so they are relative newcomers too. Dawkins, who holds down the starting left tackle spot he has manned since his rookie year in 2017, is the lone returnee who actually saw significant playing time on the O-line last season. Anchoring the new-look line this year will be the Bills' prize free agent signee, center Mitch Morse. His veteran presence should help Allen with line calls, although his history of concussions could be an issue. He missed basically all of training camp while in concussion protocol. Luckily, the Bills looked for versatility when they went after replacements in free agency and the draft when it came to offensive linemen. Jon Feliciano won the starting right guard spot but can also fill in at center, just as his backup, Spencer Long, can. Starting at right tackle is rookie second round draft choice Cody Ford, who can also slide inside and play guard. Starting at left guard is another free agent, Quinton Spain, although he will have to eliminate the penalty issues he had in the preseason to hold his spot. Ty Nsekhe, a veteran reserve, is the swing tackle. He can move into either tackle spot if needed. Last but not least is rookie Ryan Bates. An undrafted free agent picked up in a preseason trade with the Eagles, he may be the most versatile of the 10 linemen the Bills kept. He can practically fill in at any of the positions along the line. The Bills seem well fortified to withstand a rash of injuries on the line if they occur.
Defensive Line
Pass rushing DE Trent Murphy
The Bills' defensive unit was solid for the most part in 2018, except maybe for not coming up with a lot of turnovers and ranking low in red zone defense. Still, unlike the offensive units, the defense didn't undergo as much change. Along the defensive line, the main change was losing veteran tackle Kyle Williams to retirement. However, they plugged that hole in a big way, drafting Ed Oliver in the first round in a move that eventually should lead to even more dominant play at that spot. The other starting tackle is Star Lotulelei, who has either underachieved or been quietly efficient in his tenure here, depending on who you ask. There is quality depth behind the starters in the two Phillips, Jordan and Harrison. The starting ends are Jerry Hughes, the team's top pass rusher, and Trent Murphy, who should be playing at a top level this year now that he is a full year removed from recovering from a knee injury. The backups at end are Shaq Lawson, who could start on many NFL teams, and an intriguing rookie, seventh round draftee Darryl Johnson Jr. He wowed the coaching staff and fans with an impressive training camp, and coming from a small school (North Carolina A&T) he could be a major sleeper. In all, the Bills are deep and in a good place as far as their defensive line rotation is concerned entering the 2019 season.
Linebackers
LB Matt Milano primed for a big year
The Bills' linebacking corps returns all 3 starters from last year in middle backer Tremaine Edmunds, flanked on the outside by Matt Milano and the ageless wonder, Lorenzo Alexander. Edmunds, a young stud with a great future, takes command of the defense this year as he will make the defensive calls. Milano, also a young vet, has shown a nose for the football during his short tenure here but coming back from an injury that prematurely ended his season in 2018, is primed for a breakout year. Alexander has already said this would be his final NFL go-around, but he hasn't slowed down a bit. He is one of the most trusted leaders in the Bills' locker room. The depth behind the starters is made up of Julian Stanford, Corey Thompson and Maurice Alexander. They are all expected to be top special teams contributors but if one of the starters is lost to injury, the drop-off will be more noticeable than anywhere else on the roster. Still, in today's game, the linebackers play a reduced role, to the point where the slot or third cornerback is on the field to defend the pass more than all 3 LBs are.
Defensive Backs
CB Levi Wallace, a career "walk on"
The secondary was a major strength of the Bills' team in 2018 and looks to be even deeper this season. Tre'Davious White, one starting cornerback, might be on the verge of a Pro Bowl season. The other starting corner, Levi Wallace, is a survivor. A walk-on in college at Alabama, he wound up starting in the defensive backfield of arguably the nation's top program. He came to Buffalo last season as an undrafted free agent and eventually won a starting CB job. In this year's training camp he fought off stiff competition to hold down that job. Behind the starters are a pair of Johnsons – Kevin, a former top draft pick of the Texans who has battled injuries, and Taron, the top slot corner who showed flashes of stardom last season in that role before getting injured. Buffalo kept 6 safeties on their 53 man roster, although one of them, Siran Neal, can fill in at corner in a pinch if needed. Micah Hyde and Jordan Poyer, the starters, are one of the top safety tandems in the NFL. Veterans Dean Marlowe and Kurt Coleman both have extensive experience in Sean McDermott's defense and are dependable backups. The sixth safety is rookie Jaquan Johnson, who made some plays and provided some big hits in the preseason and should be an asset on special teams.
Special Teams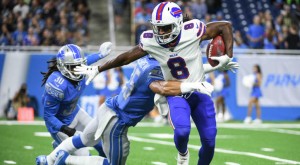 Pro Bowl kick returner Andre Roberts
The Bills cut some of their top special teams players from last season, like Lafayette Pitts and Deon Lacey, but then again their bomb squads were nothing to write home about either. They have a new special teams coach in Heath Farwell, and gave him a present when they signed Pro Bowl kick returner Andre Roberts away from the division rival New York Jets  in free agency. The specialists remain the same ones who started 2018 – long snapper Reid Ferguson, as dependable as they come, placekicker Stephen Hauschka, who struggled at the end of the season, and punter Corey Bojorquez, whose spot on the roster could be tenuous if he doesn't improve on a woeful preseason performance.
For Bills' fans' enjoyment, here is the annual posting of the team's popular fight song. LET'S GO BUFFALO!: