The preseason schedule has been completed, and cuts have been made to trim the roster to the final 53 players, so it's time for our annual Buffalo Bills season preview. The Bills, thanks to some late-game heroics from Cincinnati's Andy Dalton and Tyler Boyd, snuck into the playoffs as an AFC wild card last season, breaking a 17 year drought. Nonetheless, management continued their "process" and made major changes to the makeup of the club entering 2018. Here's my position by position preview of Buffalo's new and hopefully improved roster:
Front Office/Coaching
Sean McDermott's initial season as head coach of the Bills has to be considered a success, just by the fact that the team qualified for a playoff spot. Now that this standard has been set, the challenge will be to not only maintain that level of success, but improve on it. With a roster that is not exactly loaded with top-tier talent, meeting the challenge will be difficult. McDermott enters the new season having made a major change to his staff, replacing Rick Dennison as offensive coordinator with Brian Daboll, who held the same position with national champion Alabama last year and has an extensive NFL coaching background also. General manager Brandon Beane continued to show that he's not afraid to shake things up in a big way – he dealt tackle Cordy Glenn and starting quarterback Tyrod Taylor for draft picks that enabled the team to have what should be a successful draft. Although there wasn't a big splash made in free agency, his signings there appear to have shored up some holes on the roster also.
Quarterbacks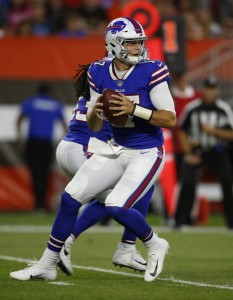 Prize rookie QB Josh Allen
Tyrod Taylor was the starting QB on the Bills' team that finally broke the playoff drought last year, but his in-season benching in favor of Nathan Peterman was the first indication that he wasn't the club's long term answer. Add to that the fact that a terrific defensive effort in the wild card playoff game against Jacksonville was wasted when Taylor could only muster 3 points with the offense, and his fate was sealed. With Taylor gone, the competition at quarterback was left to Peterman, free agent signee AJ McCarron and top draft choice Josh Allen. Coach McDermott declared an open competition for the starting job entering camp, and Peterman won the starting position with a clearly better performance in the preseason. McCarron failed to show anything until the final quarter of the final preseason game, and was eventually traded to Oakland. Allen may be the team's long term answer, but the one year's experience Peterman had in 2017 won him the job.
Running Backs
Versatile back Marcus Murphy
The Bills' offense will rely heavily on the talent of Pro Bowl back LeSean McCoy, who is without a doubt the team's most valuable weapon. He is the stalwart contributor to the running game, and can be expected to see a lot more action in the passing attack also. Marcus Murphy has been a revelation in training camp as McCoy's main backup, and looks like he'll see a major role spelling McCoy and returning kicks. Free agent signee Chris Ivory is another new back in the team's stable. He is a power runner who will provide a change of pace from McCoy. Both Murphy and Ivory are improvements over last year's backup, Mike Tolbert. At fullback is Patrick DiMarco, whose main role is as a blocker and occasional receiver out of the backfield. Taiwan Jones also stuck on the final roster, strictly as a special teamer.
Receivers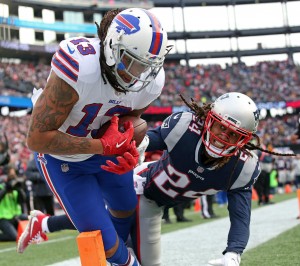 WR Kelvin Benjamin
Buffalo's receiving corps is full of question marks entering the 2018 season. Kelvin Benjamin, acquired in an in-season trade last year, is the only bonafide NFL star among the group, and he has struggled to stay healthy in his career so far. Jeremy Kerley is a veteran slot receiver whose experience should help stabilize the group, but after him there is a lot of mystery. Zay Jones enters his second year as a player who has a lot of potential and has shown flashes of ability, but he still needs to up his game. Andre Holmes won a spot on the roster because he is a special teams stalwart, but could also add a veteran's touch to the receiving corps in a limited role. Rookie Ray-Ray McCloud adds some speed to the unit, and should help in the return game also. Rookie undrafted free agent Robert Foster is a wild card entering the regular season. He didn't show much in the exhibition games but the coaching staff must have a plan for him. Charles Clay leads a tight end group that, like the wide receiving corps, has potential but is unproven. New offensive coordinator Brian Daboll's scheme relies heavily on the tight ends, which explains why the team went heavily at the position on their final 53 man roster. Logan Thomas, Jason Croom and Khari Lee all provide different skill sets behind Clay.
Offensive Line
Left tackle Dion Dawkins
Stability was a word used to describe the Bills' offensive line entering the 2017 season, but entering this season the unit is in a state of flux after the trade of Cordy Glenn, the retirement of center Eric Wood and the release of left guard Richie Incognito. Holdover Ryan Groy and free agent signee Russell Bodine battled all summer to become Wood's replacement at center, with Groy ultimately winning the starting job. He also provides depth at guard. Vlad Ducasse was shifted over from right guard to Incognito's spot on the left, with John Miller at right guard. Buffalo seems to have a pair of at least capable, though certainly not spectacular, players holding down the tackle spots in Dion Dawkins and veteran Jordan Mills. Besides Groy, depth at guard is provided by rookie Wyatt Teller, an aggressive blocker who flashed potential in camp but has a lot to learn. The backups at tackle are a major question mark. It can be argued that both Conor McDermott  and veteran Marshall Newhouse had failing grades in their preseason action. Coach McDermott stressed the urgency to eliminate penalties throughout training camp, and Newhouse was the biggest offender in that department.
Defensive Line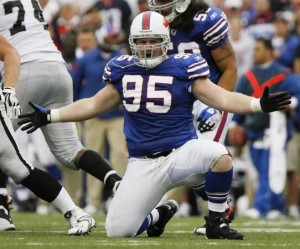 Veteran DT Kyle Williams
The Bills were among the worst teams in the NFL at stopping the run in 2017, so some much-needed additions were made to the defensive line group in the off-season. Their main free agent signings were designed to shore up the line – run-stuffing tackle Star Lotulelei from Carolina and end Trent Murphy from Washington, a pass rush specialist. The former will be paired with Bills' stalwart Kyle Williams at the starting tackle spots, while Murphy is penciled in opposite incumbent Jerry Hughes at end. Buffalo's braintrust is hoping Murphy will mirror the success they had with the signing of safety Jordan Poyer last year – a veteran recovering from a major injury who is a question mark but rebounds to have a great season. Depth at tackle starts with a promising rookie draft pick, Harrison Phillips, a Kyle Williams clone who is the heir apparent to that starting tackle job. Vet Adolphus Washington is the other interior backup, while depth at the end positions is well manned with Shaq Lawson, who looks poised for a breakout year, and reliable Eddie Yarbrough.
Linebackers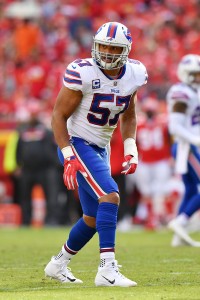 LB Lorenzo Alexander
The Bills made what they hope is a major investment in their defense of today, and in the future, when they traded up for the second time in the draft's first round to corral Tremaine Edmunds, a top prospect who immediately fills a spot at middle linebacker vacated when Preston Brown left in free agency. Edmunds should be an upgrade over Brown in every area except experience. The other starting backers will be second year man Matt Milano and grisly vet Lorenzo Alexander, who still shows very few signs that his play is declining despite his advanced age. All three backups at linebacker – Deon Lacey, Julian Stanford and Ramon Humber, are on the roster strictly for their special teams skills. If any of the trio are forced into the starting lineup due to injury, the Bills' defense will take a major hit, especially in the pass coverage area.
Defensive Backs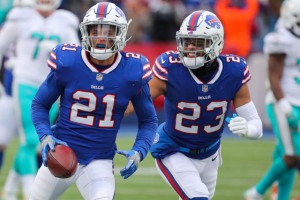 Safeties Jordan Poyer (21) and Micah Hyde (23)
The secondary turned into one of the team's main strengths last season, and 3 of the 4 starters return there. Safeties Jordan Poyer and Micah Hyde, both free agent signings for 2017, return to patrol the back end while last year's rookie phenom, Tre'Davious White is back at one cornerback spot. One-time Pro Bowler Vontae Davis was signed to replace oft-injured EJ Gaines as the other starting CB. The Bills hope to get the Pro Bowl version of Davis, but he was targeted and burned often by opponents in the preseason. Rookie Taron Johnson and veteran free agent signee Phillip Gaines both won roster spots and it's still uncertain entering the regular season which of them will be the slot cornerback. The other reserve corners are returnee Lafayette Pitts, another bomb squad mainstay, and Ryan Lewis, who was claimed off waivers at the final cutdown and is a complete unknown. The signing of Rafael Bush to be a veteran safety backup to Poyer and Hyde looks like a good one. The other reserve safety is rookie draft pick Siran Neal.
Special Teams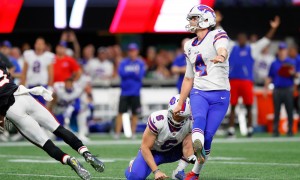 Kicker Steven Hauschka (Getty Images)
Another of the stellar 2017 free agent signings leads off the list of Buffalo's specialists, placekicker Steven Hauschka. "Hausch Money" was automatic in 2017 and hopefully he can repeat his reliable campaign of a year ago. The Bills made a surprise move on cutdown day by waiving their incumbent punter, Colton Schmidt, and replacing him with a totally untested rookie, Corey Bojorquez. He was on New England's preseason roster but never punted in a game. The left-footer had an impressive college career at New Mexico, however, and the Bills are obviously counting on him to replicate that in the NFL. Ryan Ferguson returns as the long snapper, while possible kick return candidates include Taiwan Jones, Marcus Murphy and Ray-Ray McCloud. Players like Holmes, Humber, Pitts, Lacey and even starter Lorenzo Alexander will be commonplace on the punt and kickoff squads.
For fans anxious to get hyped for the start of the season, here is the annual audio "Shout" song clip: