It's a whole new ballgame once again at One Bills Drive in 2017 as the team, in what seems like the umpteenth time, starts over with an entirely new regime in charge of football operations. Owners Terry and Kim Pegula, burned the last 2 seasons by the Rex Ryan circus, turn to Sean McDermott to try and right the ship. The expectations will be low as the roster seems to lack talent and the turnover has been high, but Buffalo fans will surely have high hopes that the 17 year playoff drought will finally end. Here is our assessment of the newest rendition of the hometown team, position by position:
Front Office / Coaching
Shortly after McDermott was hired as coach, Brandon Beane was brought in to replace Doug Whaley as general manager. The 2 newcomers at least seem to be on the same page when it comes to the type of player they want on the roster. The turnover on the roster has been stunning, and there was no more shocking move made than the trade of prize receiver Sammy Watkins. That move may backfire, but this regime certainly is not afraid to move boldly to accomplish their vision of a winning organization. McDermott hired a couple of experienced coordinators in Rick Dennison and Leslie Frazier, but time will tell whether there is enough talent on the team for them to orchestrate any success. With all the new faces on the team, it will be difficult to coordinate anything, given the lack of familiarity involved.
Quarterbacks
QB Tyrod Taylor
Although he enters the season in the concussion protocol and his status is uncertain for opening day, Tyrod Taylor is back as the Bills' starting quarterback. He gives the team its' best chance to win with his unique skill set, but still needs to show he can throw over the middle and just play more consistently in general. Still, the Bills' offense, with Taylor at the helm, scored more points last year than the franchise did in Jim Kelly's final 2 seasons in the 1990s. Rookie Nathan Peterman won the backup job in camp and showed poise in the pocket in the game action he saw. For the time being the Bills have 4 signal callers on the roster, with veteran T.J. Yates also in concussion protocol, and "Swiss Army knife" Joe Webb, a late addition from the waiver wire.
Running Backs
RB LeSean McCoy
Buffalo's rushing attack is among the NFL's best and LeSean McCoy is easily their best player. He will be a top weapon in both the running and passing attacks, and a major challenge for the coaching staff will be getting him the ball in space when opposing defenses will be keyed to stopping him. He is the only apparent big play threat on offense. With Mike Gillislee gone in free agency and Jonathan Williams a surprise cut, newcomer Joe Banyard looks like the main backup. Pro Bowl fullback Pat DiMarco was added to the roster, with his major role being that of a blocker for the feature backs. He can also help out in the passing game. Another new backfield addition is veteran Mike Tolbert, a fullback by trade who has also gotten opportunities as a running back. He should be valuable in short yardage and goal line situations. Speedy Taiwan Jones is also on the roster. He showed some flashes as a runner, but was outstanding as a special teams gunner, which will likely be his primary role.
Receivers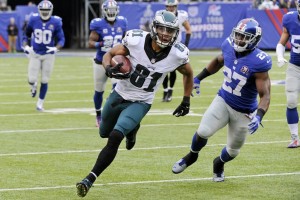 WR Jordan Matthews
The receiving corps got a major shakeup and lost a valuable downfield weapon when Watkins was dealt to the Rams, and the 2017 group looks like a mish-mosh of mostly slot-type receivers. Jordan Matthews, acquired from the Eagles the same day Watkins was traded, appears to be the top pass catcher now even though he has yet to suit up for a game. rookie Zay Jones will have to become a major player in the passing game whether he is ready or not. So far he looks like he has reliable hands and may even have the potential to develop into a deep threat. Brandon Tate is the club's main kick returner, and a pretty effective one, but he also could see significant time as a receiver. The receiving corps is rounded out with veteran journeyman Andre Holmes, plus new addition Kaelin Clay, who is relatively unknown. He has some speed and made some plays in the preseason for Carolina, and is another kick return option. The Bills are keeping 4 tight ends on the roster, since tight ends apparently are important pieces of Dennison's offensive scheme. Charles Clay can be a playmaker if Taylor can get him the ball over the middle, while Nick O'Leary is capable of moving the chains with third down receptions. The third option is project Logan Thomas, who is being converted to the position from quarterback. He is probably a candidate for the inactive list each week. The newest waiver acquisition is another tight end, Khari Lee, who has a couple of years of limited NFL experience.
Offensive Line
C Eric Wood
The offensive line has been a strength of the team in recent years, despite the mediocre overall play of the offense. Anchored by center Eric Wood, the starting five have played together for awhile now, although they are learning a new zone-blocking scheme this year under Dennison. Richie Incognito and John Miller man the guard spots, with Cordy Glenn and Jordan Mills at tackle. There is some solid depth behind the starters, and some of the backups may push their way into the starting lineup as the season wears on. Ryan Groy played well in Wood's spot last year after the starting center was injured, and is the primary backup. He could also slide into both guard and tackle positions in a pinch. The fact that Buffalo matched a free agency offer to keep him proves his value. Rookie second round pick Dion Dawkins may also push Mills out of the lineup when he gains some experience. Free agent signee Vlad Ducasse battled Miller for his job in camp, and will likely spell him during games all year. A late addition is Conor McDermott, no relation to the coach, who is a large rookie tackle from UCLA who was claimed off waivers.
Defensive Line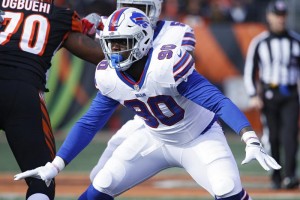 DE Shaq Lawson
Despite the low expectations, there is reason for optimism for Bills' fans heading into the 2017 season. That reason is that the strength of the team is in the trenches, which is usually what winning teams need to be successful. Just like the offensive line, the defensive line is loaded with talent, and will be playing in a scheme that should highlight that talent, rather than hinder it, this year. Kyle Williams is a solid veteran, and locker room leader, at one tackle, and man-child Marcell Dareus is at the other tackle. Dareus needs to have a big year for the D-line, and the defense in general, to succeed. He can start by getting his off the field act together and then begin living up to his big contract. Ends Jerry Hughes and Shaq Lawson are primed to have big years harassing opposing quarterbacks. Hughes appears ready for a return to top form, while Lawson may have a breakout year. In the modern NFL, a robust defensive line rotation is important, and the Bills have plenty of depth to keep the troops fresh as games, and the season, grind on. Jerel Worthy, Adolphus Washington and DeAndre Coleman are stout as reserve tackles inside, while newcomers Ryan Davis and Eddie Yarbrough man the backup end spots. Yarbrough in particular showed a lot of energy in the preseason playing time he got. Judging from the preseason, the Bills will be tough to run against this year, after allowing multiple 200 yard rushers last season.
Linebackers
LB Preston Brown
Buffalo's linebacking corps is a little unsettled as the season begins. First off, the switch from last year's 3-4 alignment to a base 4-3 left some players as bad fits. That was the case with Reggie Ragland, who was dealt to the Chiefs. Preston Brown was supposed to be challenged for the middle linebacker job by Ragland, but the veteran from Louisville resoundingly won that battle and will quarterback the defense from that spot. Aging vet Lorenzo Alexander was a revelation last year, but can he repeat the successful year that won him a surprising Pro Bowl trip in 2016? That remains to be seen. The other outside starter is journeyman Ramon Humber. Both he and Alexander were supposed to be special teamers but now find themselves as starting 'backers. Humber could be pushed for playing time by the reserves. However, after final cuts the only other backups for this unit are rookie late round draft picks Matt Milano and Tanner Vallejo, which prompted GM Beane to scour the waiver wire for help at the position. He wound up signing a young prospect in Deon Lacey.
Defensive Backs
CB E.J. Gaines
As far as the defensive secondary is concerned for Buffalo entering 2017, one thing is certain – it will be different. There are no holdovers from last year among the DBs. The starting safety tandem is a pair of free agent additions, Micah Hyde and Jordan Poyer. Hyde was a solid player for a winning franchise in Green Bay, and figures to be an effective leader on defense. Poyer is a bit of an unknown wild card, having toiled with the lowly Cleveland Browns and coming off an injury. They looked good and comfortable with each other in preseason action, and now will be tested in real games. Another ex-Brown, Trae Elston, is the only other reserve safety. The cornerbacks are all new faces. Rookie top draftee Tre'Davious White replaces departed Stephon Gilmore as the top corner, with the other starting spot and slot corner position still open. Veterans Leonard Johnson, Shareece Wright and E.J. Gaines (acquired for Watkins) are the candidates. Rookie Greg Mabin had 2 preseason interceptions to earn himself a surprise roster spot.
Special Teams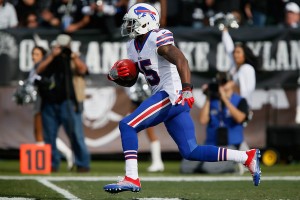 KR Brandon Tate
Holdovers on the bomb squads are punter Colton Schmidt, who needs to rebound from a poor 2016, and main kick returner Brandon Tate, who is valuable in giving the offense field position. Long snapper Reid Ferguson is new, as is placekicker Stephen Hauschka, who was highly successful in Seattle. He had problems with the new extra point distance last year, however, much like his predecessor here, Dan Carpenter. With the high turnover on the roster, the special teams will include many new faces, among them gunner Taiwan Jones. New WR acquisition Kaelin Clay has kick return potential also.
Overview
As stated earlier, the fact that the Bills are strong in the trenches, on both the offensive and defensive lines, gives them hope for a successful season. They'll need big years from their few playmakers, McCoy, Charles Clay, Dareus, Hughes and possibly Hyde, to have any success. They'll have to play solid team defense, and offense for that matter, and get contributions from their non-superstar but solid players like Kyle Williams, Alexander, Jordan Matthews, Holmes and Poyer. If youngsters like Lawson, Tre White, Zay Jones and Dawkins can develop, they could surprise people. McDermott certainly has his hands full in his head coaching debut season, but with expectations low he really only needs to show that the team is showing weekly improvement. If they are showing solid improvement as the year goes on, the future will look bright, especially with all those stockpiled high draft choices coming in 2018.
For the die-hard Bills' fans, here's the annual traditional ending of this season preview. Enjoy: