After signing 19 (and counting) players in free agency this off-season, the Buffalo Bills added more ammunition for the 2019 season in the recently held NFL draft of college players. General manager Brandon Beane showed patience in some spots, and was aggressive in a couple of others to get players he felt would fit the team's "DNA". Here's our assessment of the players drafted and a few who are expected to sign as undrafted free agents: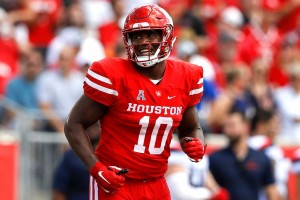 Ed Oliver, DT, Houston – Beane was patient with his first round pick, standing pat at ninth overall instead of trading up, and the player he wanted in Oliver fell into his lap. With veteran Kyle Williams retiring, this pick is not only a classic "best player available" choice but also fills a big need along the defensive front. Williams was a warrior and a classic overachiever in his time with the Bills, but if Oliver lives up to his potential, his insertion into Buffalo's D-line rotation should be an upgrade.
Cody Ford, OL, Oklahoma – the Bills are completely rebuilding their offensive line this off-season, and even after signing a number of reinforcements for this unit in free agency, Beane stayed patient again after considering trading back into the first round to grab Ford, and instead held steady and got him with his second round pick, only giving up a fifth rounder to climb 2 spots. The big Sooner is penciled in to compete at right tackle to start, and many draft analysts say he has the potential to develop into an All Pro type of player.
Devin Singletary, RB, Florida Atlantic – most Bills' fans were surprised by this pick, with wide receiver apparently being seen as the biggest need and plenty of candidates at that position still available here. But Beane insisted that the team stuck to its' draft board and Singletary stood out as the player to be chosen. To me, Beane showed he is thinking long term as well as improving the team this season with this pick. LeSean McCoy and Frank Gore are both aging and on one year contracts at this point so Singletary could emerge as a major contributor in 2020 if he pans out.
Dawson Knox, TE, Mississippi – this choice was actually 3A as Beane dealt both of his fourth round picks to move back into the third round for Knox. The Bills must think highly of him to give up that draft capital for him. There is definitely a lot of untapped potential with the Ole Miss tight end, as he played in an offense that also included a number of wide receivers who were highly regarded by NFL scouts. Jim Nagy, who puts together the rosters for the annual Senior Bowl game, insists that Knox is not that far off talent-wise from Iowa's T.J. Hockenson, a first round pick by Detroit.
Vosean Joseph, LB, Florida – after dealing both fourth round picks to get Knox, the Bills had to wait until round 5 to make their next selection, and most analysts feel they got a pretty good player in Joseph, an undersized linebacker who looks like a safety. With his main positive traits being speed and hitting ability he might be a great candidate to start his career as a special teams gunner, but with Lorenzo Alexander possibly playing his last season in 2019, there could even be an opening in the starting lineup soon if Joseph turns out to be the real deal.
Jaquan Johnson, S, Miami,Fla. – the Bills used their sixth round pick on the first of 2 consecutive Johnsons, this one a safety from the Miami Hurricanes. The Bills are pretty set at safety as far as starters are concerned and late round picks are usually up against it when it comes to winning roster spots, so he will likely have to play special teams and then compete with the likes of Rafael Bush and Siran Neal at the backup safety spots.
Darryl Johnson Jr., DE, North Carolina A&T – Buffalo took a flyer on a small school prospect with this pick, but Johnson did dominate at the MEAC Conference level so he is a legitimate player. It's always a roll of the dice with players who haven't competed at a high level in college, but there are many players in NFL history from historically black colleges who have not only played in the NFL but excelled.
Tommy Sweeney, TE, Boston College – a lot of draft analysts had Sweeney going much higher than the final round. He is considered a one dimensional, in-line blocker style of tight end, which in today's pass-happy NFL has fallen somewhat out of vogue. Buffalo, however, likes to play an offense that features a strong rushing attack so Sweeney could easily find a spot on the roster if he plays that role well enough.
As far as undrafted free agents, the Bills were aggressive in signing a number of them, and a few are interesting prospects who could find their way onto the final roster this season. With no wide receivers drafted and the position seemingly in need of help, David Sills V of West Virginia and Iowa's Nick Easley will get good looks in camp. Cornerback Cam Lewis from Buffalo was a surprise signing, but the other UB prospect, QB Tyree Jackson, was a real surprise. First off it was stunning that he wasn't drafted at all, and his addition to an already crowded quarterback room is a bit of a head scratcher. Still, if he performs up to what his potential is, he could be an excellent developmental candidate as a future backup. There were a number of offensive line players signed also, but with that unit being stacked already those players are mostly training camp fodder. As is usually the case, a free agent kicker was signed to compete with the incumbent, in this case Steven Hauschka. Hauschka did struggle toward the end of the season after sustaining an injury, so he could be given a run for his money. The kicker signed was Chase McLaughlin of Illinois, who was the Big Ten kicker of the year. He was perfect on extra point attempts and had a school record of 5 50 plus yard field goals made.