In celebrating the first 100 years of the National Football League, there are men and women who stand above the rest for their contributions to making the game great. There are none who stand any taller than Vince Lombardi, who was overlooked for coaching opportunities in the NFL despite a successful run as the top offensive coach for the New York Giants in the 1950s. He worked as a high school coach and as a college assistant at Fordham and West Point before getting his NFL opportunity with the Giants, whose top defensive assistant at the time was Tom Landry. Those 2 legends, along with head coach Jim Lee Howell, turned the Giant franchise into winners as they reached a pair of title games and won the title in 1956. Howell readily acknowledged the talents of his two top assistants, jokingly saying that his main job was "to make sure the footballs had air in them." Despite the success, Lombardi was passed over for head coaching jobs, both in college and the pros, and he feared that his Italian-American heritage was being used against him in his failure to land a head coaching position. Finally, in 1959, the Green Bay Packers hired him as their new head man. The team was coming off of a one-win season and was a laughingstock in the league. Lombardi immediately turned around the team's fortunes. They finished 7-5 and Lombardi was named Coach of The Year. His success was only beginning, however. The Packers won the Western Division title in 1960 and lost a heartbreaker to the Philadelphia Eagles in the championship game. The Packers were stopped just short of the goal line on the game's final play, costing them the win. In the locker room afterwards, the coach told his team "This will never happen again. You will never lose another championship game." He was true to his word, as that loss was the only postseason defeat his Packer teams would suffer. They went on to win 5 titles in the next 7 years, including wins in the first 2 Super Bowls.
Lombardi and his Packers celebrate NFL title
Lombardi stepped down as Packers' head coach after the second Super Bowl win and stayed on as the team's general manager for a year, but still had a yearning to coach, so he left the organization to become head coach of the Washington Redskins in 1969. He turned the Washington franchise around in his only season coaching there as they finished 7-5-2 for their first winning season in 14 years. Lombardi's final numbers as a head coach were astonishing – no losing seasons, the 5 championships and an overall 105-35-6 record, including a 9-1 mark in postseason games. Unfortunately Lombardi's tenure in Washington would only last that single season. After falling ill, he was diagnosed with terminal cancer and passed away shortly after at the age of 57. On his deathbed, he told a visiting priest that he did not fear dying but regretted that he had not accomplished more in his life. The football world couldn't have disagreed more with that sentiment. He was enshrined in the Pro Football Hall of Fame a year after his sudden death and the trophy awarded to the winner of the Super Bowl each year was named in his honor.
Vince Lombardi Trophy
Lombardi is a giant of the game for more reasons than just winning. He was a pioneer in improving race relations and treating black players as equals, and even embraced gay players. He always said he didn't see his players as black or white, but only "Packer green". One former black player, noting Lombardi's disciplinary style, once jokingly said that the coach "treated us all equally….like dogs." His reputation as a taskmaster wasn't entirely true. He was a master at teaching the game, having been a teacher before getting into coaching. He instituted policies in Green Bay that insisted that the team only stay at hotels that treated his players equally, would make any establishment that was prejudiced against any of his players off-limits to his entire team and made crystal clear to his players that any of them who exhibited prejudice of any kind against another player would be thrown off the team. Some of Lombardi's critics, as few as they are, have said that his accomplishments are tainted because his teams were loaded with future Hall of Famers. That argument doesn't hold water when you consider that most of those players were already on the Packer roster before Lombardi arrived, and were underachieving on a losing team. Lombardi molded them into Hall of Famers. One other factor that made the coach an all-time great was his integrity. He was so admired for his upstanding character that in the 1960s Richard Nixon tried to recruit him to be his vice presidential running mate. Lombardi, being a staunch Kennedy Democrat, politely declined. His commitment to integrity is a lesson some modern day coaches could learn from.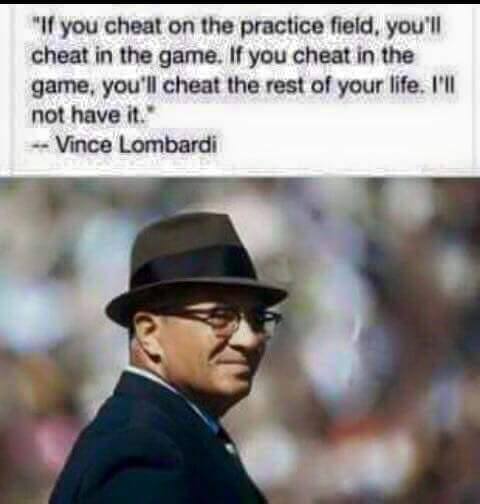 Vince Lombardi's quote about integrity