Most of the early stars of pro football are long forgotten but in this year of celebration of the NFL's 100th season it's good to remember those players and the contributions they made to bring the sport forward into the public eye. There is no player who contributed more to that cause than Harold "Red" Grange. In the 1920s, baseball was the undisputed national pastime, since it was the era of the sport's most famous player, Babe Ruth. College football was also popular but the pro game, in it's infancy then, was regarded as a savage game and there were even prominent politicians who wanted to ban the sport. Grange was a highly popular All American player for the University of Illinois, to the point that when he was a 22 year old just out of college, people tried to convince him to run for Congress. He chose to sign with the Bears and play pro football, however. The Bears then went on a 19 game, 67 day barnstorming tour of games around the country, with "The Galloping Ghost", Grange's nickname, as it's star attraction. And an attraction he turned out to be, as crowds of up to 70,000 showed up to see him play.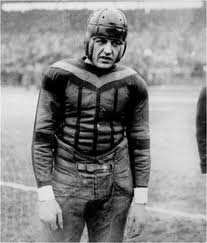 Red Grange, pro football's first gate attraction
New York Giants' owner Tim Mara had previously been critical of Grange signing with the Bears, citing a rule that teams shouldn't sign college players. However, he negotiated a game with the Bears to be held in New York and over 70,000 fans turned out for the match. The gate receipts from that game helped keep the Giants' franchise from folding. The barnstorming tour was a brutal one, and when injuries began to mount on the players, most notably Grange, the promoters began the practice of having a week's rest period between games. That practice, for the most part, became a standard for the NFL, and pro football in general, that still exists today. Critics who had denounced pro football from the start began comparing the barnstorming tours to a traveling circus rather than a professional sports league. That criticism was most likely a big factor in the league's founders and executives pulling the pro teams together to form a more unified, organized association with uniform rules for all.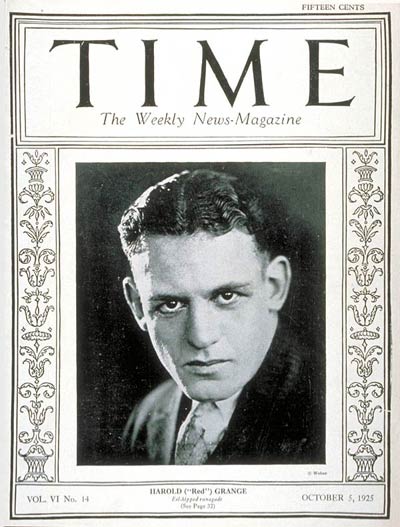 Red Grange on the cover of Time magazine in 1925
Of course, Grange was only one of many early marquee players who lifted the game out of it's "circus" reputation to a stature as a major sport, and it's been argued that injuries caused a decline in his abilities and his name rather than exploits on the field kept him in the news. He did make plays to help the Bears win championships in 1932 and 1933, so I'm not sure that argument holds water. Grange, being a major name in the news, also was recruited to star in silent films and in 1931 starred in a 12 part serial The Galloping Ghost, playing himself. That exposure in movies was good publicity for both Grange and the NFL, as the league could brag that one of their own stars was also a very popular figure among non-football fans. Being as well known as he was, Grange became a motivational speaker after he was finished playing and had dabbled in coaching as the Bears' backfield coach. He also was once offered the team's head coaching job but turned it down, expressing that he wasn't interested in being a head coach at either the college or pro level. He was successful as a broadcaster starting in the 1950s as he worked both college games for NBC and regional telecasts of Bears' games for the Dumont Network and CBS. Grange was one of the earliest names known to pro football fans, and it was only right that he was included in the Pro Football Hall of Fame's inaugural class of inductees in 1963. He passed away in 1991 and he hadn't been involved in the NFL for over 50 years, but when the NFL began to honor those who had been the brightest stars in their long history in this celebratory season, The Galloping Ghost was one of the first to be mentioned.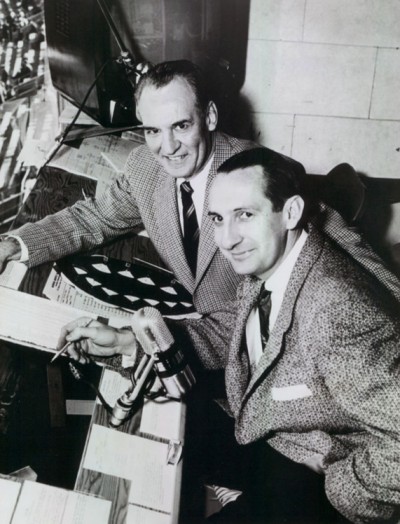 Grange and Lindsey Nelson in the broadcast booth