In the title for this NFL 100 feature we purposely omitted the nickname of the player, which is "Mean" Joe Greene. It's a nickname that's appropriate for his play on the field, but Greene was never fond of it. He felt that it didn't reflect his true personality. He lamented after his playing days ended that he would be remembered as being mean, or dirty, rather than how he wished to be remembered-as a player who played 13 years and contributed to winning 4 championships, and who set a standard for other players to strive to reach. We can certainly agree with that assessment. Greene, whose given name isn't even Joe, it's Charles Edward Greene, picked up the nickname in college at North Texas State, where the team's defense picked up the nickname "Mean Green" for it's stingy play. When Chuck Noll took over as the Pittsburgh Steelers' head coach in 1969, his first draft choice, fourth overall in the first round, was Greene. It wasn't a popular pick among Steeler fans, who wanted a flashy player to help turn around what was a losing team at the time. Instead they got a little known defensive player from a small school.
Greene changed a lot of minds in a hurry in his first year in the pros. Despite the Steelers continuing their losing ways with a 1-13 record, Greene was a standout, being named Defensive Rookie of The Year and also being chosen to play in the Pro Bowl. It took a couple more years, and some outstanding drafts, to build the Pittsburgh franchise into what Noll was hoping for, but Greene continued his stellar play, eventually being the cornerstone of what would become the "Steel Curtain" defensive unit that dominated the 1970s and led to four Super Bowl wins. Greene insisted that the team had 10 other players who were All Pro caliber on that defense and that he was just another piece of an outstanding unit, but the fact is that over his career, he was rewarded many times over for his individual play. After winning the Defensive Rookie of The Year award, he followed that up by winning Defensive Player of The Year twice, becoming the first player in history to win the award multiple times. He was an eight-time All Pro, a ten-time Pro Bowler, won the NFL Man of The Year Award in 1979, and was chosen for the NFL's All Decade team for the 1970s, the NFL's 75th Anniversary team and most recently, the league's 100th Anniversary team. Greene was inducted into the Pro Football Hall of Fame in 1987.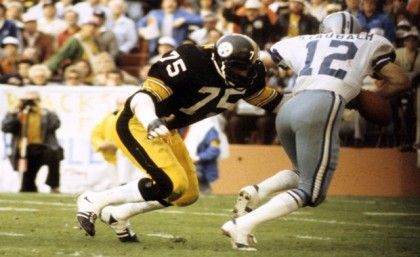 Mean Joe Greene about to make life miserable for Roger Staubach
Perhaps to somewhat soften his image as "Mean Joe", Greene made a commercial for Coca Cola during his playing days that saw him limping down the tunnel into the locker room as a small boy offers him his Coke. Greene snarls a little but then accepts the gift, drinking the whole bottle, then tosses his jersey to the boy. It was a poignant ad that is still remembered today, one of the classic sports commercials of all time. Greene's contributions to the game continued after his playing days ended. He spent 16 years as an assistant coach with the Steelers, Miami Dolphins and Arizona Cardinals, and worked in player personnel for the Steelers until retiring from the franchise's front office in 2013. He was married for 47 years before his wife passed away in 2015, and has 3 children and 7 grandchildren, who only know him as "Papa Joe". Surely his days of being "Mean Joe" are a distant memory now, but Greene deserves to be remembered in NFL annals as one of the greatest defensive players of all time.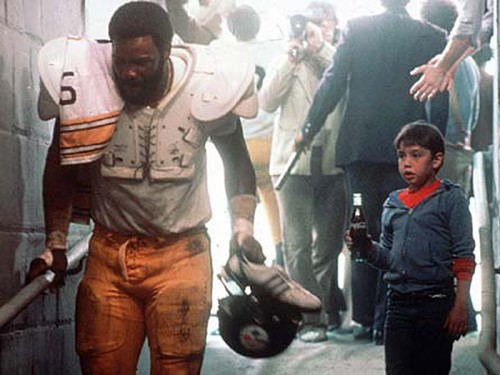 "Mean Joe" Greene's Coca Cola commercial