He played only 9 seasons in the NFL, but what an impactful 9 seasons they were. I'm talking about our next NFL 100 subject, former Cleveland Browns' back Jim Brown. After a record-breaking college career at Syracuse, where he starred in both football and lacrosse (and reportedly was better at lacrosse than football), Brown was drafted by the Browns for the 1957 season. He won NFL Rookie of The Year that season and proceeded to 1.) lead the league in rushing 8 of his 9 seasons 2.) be named first or second team All Pro in all 9 seasons 3.) become the only player in NFL history to average over 100 yards per game for his career and 4.) be named NFL Most Valuable Player 3 times. Brown's combination of size, speed and toughness were almost unheard of in the era he played, and it could be argued that he is one of just a handful of former players from earlier days who could play with the much larger, more athletic players of today. In fact, in 1983, Sports Illustrated did a story on the possibility of Brown making a comeback at age 47 with the Los Angeles Raiders, with the legend claiming he could dominate the players of the day even at his advanced age.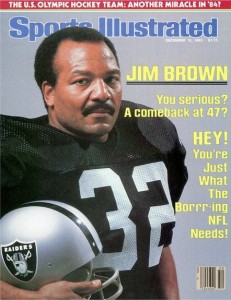 A Jim Brown comeback at 47? It didn't actually happen but nobody doubted that it could've
Another amazing fact about Brown's career, and a major difference between the game of the 1960s and today, is that he actually played fullback. That position is all but forgotten in today's game, or at best considered a blocking back spot. There are 6 players considered to be true fullbacks in the Hall of Fame, the most recent being Larry Csonka, whose career ended in 1979. Brown was both charismatic and controversial as a player, but above all he was his own man. He was at odds with his coach, NFL legend Paul Brown, at times due to Paul Brown's rigid coaching style, and reportedly was behind a player revolt that got the coach fired prior to the 1963 season. Determined to prove his team could win without that rigid coaching, Jim Brown led the Browns to the NFL championship in 1964, still the most recent title the Browns have won. There was a story that during his playing days Brown brought a brief case into the locker room and when reporters asked him what it was for, he replied "I'm a businessman." He was ridiculed in the press for that remark, with football players mainly being considered Neanderthals at the time, but Brown wasn't kidding around. He became involved, along with other black athletes at the time like Muhammad Ali, Bill Russell and Kareem Abdul Jabbar, in the Civil Rights movement. He also became involved in movies. He was in a movie during his playing days called Rio Conchos, and in early 1966 was filming the movie The Dirty Dozen in London. Bad weather delayed the filming to the point that Brown would have to miss some of training camp, which angered owner Art Modell. When Modell threatened to fine his star fullback $1,500 a day for his absence, Brown abruptly announced his retirement from the game. He claimed the decision was easy, since he was making more money doing movies than playing in the NFL. He was in quite a few successful films, including Ice Station Zebra and 100 Rifles, where he actually had top billing over Burt Reynolds and Raquel Welch.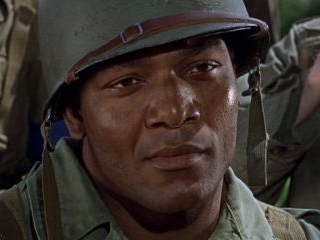 Jim Brown in The Dirty Dozen
Jim Brown is still my favorite football player of all time, a childhood hero of many who grew up in the 1960s. He is still regularly named the greatest player of all time by various surveys over 50 years after his playing days ended. There's an argument to be made for the likes of Jerry Rice and Tom Brady but for overall impact to the sport, Jim Brown tops my list of greatest players in the NFL's 100 year history.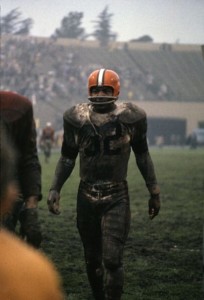 Another day at the office for Jim Brown