When it comes time to list the greatest players in the 100 year history of the National Football League, Hardy Brown is hardly a name anyone would think of. But he is legendary among the players who helped build the game in the wild and wooly days of the 1950s, when player safety was an afterthought and an "anything goes" attitude was prevalent. The grainy footage of games played in that era contains Saturday night games played with a white football and tackles well out of bounds with players being driven into the benches of opposing teams and roughed up when they landed.
White football used in NFL night games in the 1950s
Hardy's style of play epitomized that era, and he had a reputation across the league, and even on his own team, for knocking players cold with a tackle that involved him hitting an opponent with a flick of his right shoulder. Five of his 10 years as an undersized linebacker were played with the San Francisco 49ers, and the team's archrivals, the Los Angeles Rams, were regular recipients of his hard hits. They once offered any player on their team a $500 bounty if they could knock Brown out of the game. The Rams' future Hall of Fame quarterback, Bob Waterfield, was once hit by a car, and afterwards he jokingly responded "I didn't know Hardy Brown was in town". His own coach threw him out of practice a number of times for injuring his teammates. His bone-jarring shoulder hits were so effective that he once had his shoulder pads checked before a game by the officials to see if there was a metal plate or some other object hidden under them. His former 49er teammate, Y.A. Tittle, credited him with at least 20 K.O.'s during his time in San Francisco.
Hardy Brown was one of the NFL's toughest characters for certain, and that toughness was forged by a hard life preceding his pro football days. He witnessed the murder of his father at age 4 and then was put into an orphanage, where he learned to play football. Later he enlisted in the United States Marine Corps, where he served in World War II. He spent his later years after football in a mental institution, and died in 1991, suffering from dementia and ironically, from severe arthritis in the same shoulder he had used to deliver his knockout blows as a player. On paper, his career appears to be that of a forgotten journeyman. He played on 7 different teams in his 10 year career and was one of only two players to play in the All America Conference, the NFL and the American Football League (he came out of retirement after a 3 year absence to play one season with the Denver Broncos in 1960). But he did make it to a single Pro Bowl in 1952 and when NFL Network listed the top 10 "Most Feared Tacklers of All Time" he was number 5 on the list.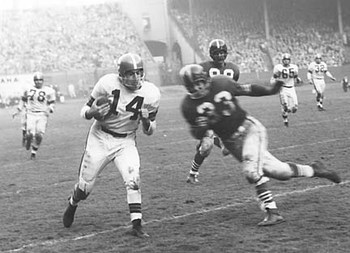 Hardy Brown about to unload on Browns' QB Otto Graham