The title of this NFL 100 post is a little puzzling at first glance I suppose. Is it about men who played for the New York Giants? Or perhaps players who rose to greatness above all others in the 1960s? No, although one of them did play for the Giants for awhile, and they did all rise above their competition, but in a physical way. Today we're featuring players who for the times were large physical specimens, intimidating figures when they lined up on the line of scrimmage on Sunday afternoons. Just like today, the star players – the quarterbacks, running backs and receivers – were celebrated in the 1960s, the era that I followed growing up that made me fall in love with the game. But there also was a lot of love and attention shown to the giant, mean snarling defensive players. When I say giant, I mean physically imposing size-wise. There were players like Dick Butkus, Sam Huff and Ray Nitschke who terrorized opposing QBs and runners from their linebacker positions, but I want to remember the guys who earned reputations as being fierce competitors and were held in high regard who were also massive human beings. I'll start with Roger Brown, who was pro football's first 300 pound player when he joined the Detroit Lions in 1960. A defensive tackle, he combined with Alex Karras on the interior of the Lions' line to wreak havoc on opponents. In a Thanksgiving Day game in 1962 that became known as the "Thanksgiving Day Massacre", he sacked Green Bay's Bart Starr 7 times, including once for a safety, as the Lions handed the Packers their only loss of the season. He was traded to the Los Angeles Rams in 1967 where he joined their already famous "Fearsome Foursome" defensive line, replacing Rosey Grier. Grier himself deserves mention here also. He was a ferocious competitor on the field for the Rams and before that with the New York Giants. His personality off the field belied his reputation on it. He was an actor, did needlepoint as a hobby and was an ordained Protestant minister. He was serving as Robert Kennedy's bodyguard the night he was assassinated. Grier actually tackled and captured the assassin.
Rosey Grier shows off a needlepoint self-portrait
Speaking of the Fearsome Foursome, the next player I'd like to feature is another member of that group, David "Deacon" Jones. He was a player who opposing quarterbacks genuinely feared. He gained the nickname "Secretary of Defense" and regularly spoke of wanting to kill quarterbacks. He coined the term "sack" in an interview at the time, saying "You take the quarterback and all the offensive linemen and you put them in a burlap sack and you take a baseball bat and beat that sack. That's what you're doing, you sack the quarterback." He was also credited with inventing the head slap, a maneuver he used to push aside offensive linemen which is now illegal.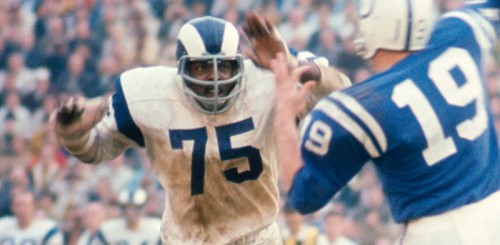 Deacon Jones terrorizes Johnny Unitas
The next player we want to recognize is a tragic figure who played most of his career in the wild and wooly days of the 1950s, but who I remember from the early '60s. He is Gene "Big Daddy" Lipscomb, who was a towering 6'9″ 290 pound defensive lineman that helped anchor the line for back-to-back Baltimore Colts' championship teams in 1958 and '59. He was so massive that he would overwhelm much smaller offensive linemen of the day and break up plays in the backfield before they could get started. He was traded to the Pittsburgh Steelers in 1961 and enjoyed the same success there. He was named MVP of the 1962 Pro Bowl, but unfortunately it would turn out to be his final game as he died of a heroin overdose in May of 1963.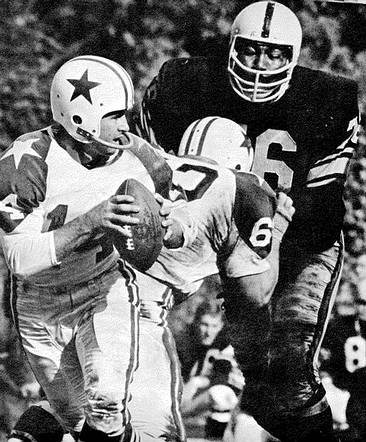 "Big Daddy" Lipscomb towers over his opponents
Like many players of his era, Lipscomb had to work during the off-season at another job to supplement his football income. In his case, the other job was pro wrestling. A couple of other giants of that era did the same thing. One is Ernie Ladd, a 6'9″ 315 pound specimen known as "Big Cat". Boston Patriots' center Jon Morris, who had the unenviable task of trying to block Ladd in the 1963 AFL Championship game, described being consumed by the "Big Cat" : "I couldn't see the linebackers, I couldn't see the goalposts. It was like being locked in a dark closet." The Chargers won that game, by the way, 51-10. To his credit, Ladd was one of the players instrumental in protesting racism at the 1965 AFL All Star game in New Orleans. The players staged a walkout and forced the game to be moved to Houston. Ladd's wrestling career was both long and lucrative. He started doing it in the off-season in 1961, and over the years became a fan favorite and then transitioned into a villain, riling up the crowds with colorful insults aimed at his opponents. Ladd was successful enough at wrestling that he is actually in the WWE Hall of Fame.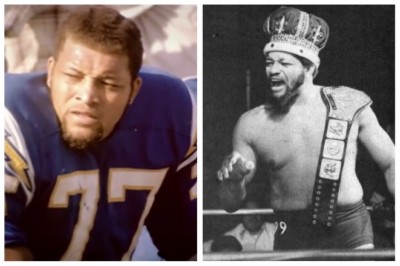 Ernie "Big Cat" Ladd, on the sideline and in the ring
One of the wrestlers that Ladd insulted during his "villain" days was another of our featured giants, Wahoo McDaniel, a Native American who Ladd called the "Drunken Indian". McDaniel doesn't belong on this list for his size, he was "only" 5'11" and 250 pounds, but he parlayed his mostly mediocre playing ability into becoming a fan favorite nonetheless. He played in the upstart AFL, where they were always looking for ways to keep the fans engaged. As a gimmick, when he made a tackle the PA announcer would say "tackle made by…guess who?" and the crowd would respond "WAHOO!!" The AFL even gave him permission to wear WAHOO as his name on the back of his jersey. He wrestled for many years and one of his famous matches was with Rick Flair that became known as the "table leg" fight. The two grapplers broke a table at ringside and Flair picked up one of the legs and hit Wahoo over the head, not realizing there was a nail sticking out of it. McDaniel was seriously injured but eventually recovered and continued wrestling long after his football days were over.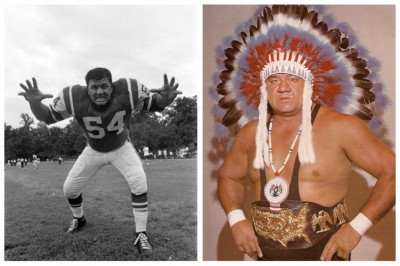 Wahoo McDaniel, the "Drunken Indian"
The last two of the 1960s giants we feature are certainly not the least. They are Doug Atkins and Ben Davidson. Similar in stature, with Atkins at 6'8″ and 260 pounds and Davidson at 6'8″ and 275 pounds, they were both meaner than badgers when it came to their play on the field. Atkins was a member of the Chicago Bears' "Monsters of The Midway" defense for 12 years, including championship teams in 1954 and 1963, and may have been the most imposing monster on that unit. One story about Atkins that highlights the difference between the 1960s era and today's game: in the Pro Bowl once, Atkins burst through the line and put such a hard hit on Cleveland quarterback Frank Ryan that it essentially ended Ryan's career. In the PRO BOWL! His explanation for the hit? He felt Ryan had embarrassed him and his team in a game years prior to then. Davidson also had a reputation for rough play that sometimes crossed the line. He once speared Chiefs' QB Len Dawson while he laid on the sideline after running for a first down. Chiefs' receiver Otis Taylor, a much smaller player, attacked Big Ben for the move, and a bench-clearing brawl ensued. Their reputations didn't hurt either of them, as Davidson is remembered as a prototypical Raider, who went on to have some success as an actor, while Atkins is enshrined in the Pro Football Hall of Fame for his stellar play between the lines.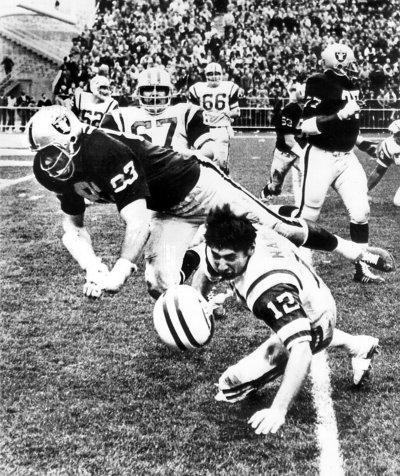 Ben Davidson rocks Joe Namath's world