Back in 2010, Rayonsports.com published a series of 9 posts pointing out the many players who we felt were gross omissions from the Pro Football Hall of Fame. Since then some of those players have been voted in, but there still remains some notable men who stand out as having Hall of Fame resumes but still aren't in. For this NFL 100 post, we'll revisit the list of players who we feel belong in the Hall, since for their 100th season celebration the league is expanding the number of candidates to be enshrined. The Hall of Fame has listed the semifinalists for the extra class and unfortunately many of the players I felt should have been included were not. The expanded class will have 20 new members, broken down as follows: 5 modern era players, 10 senior inductees, 3 contributors and 2 coaches. Let's start with the modern era players. Former Steelers' safety Troy Polamalu is almost a lock to be inducted in his first year of eligibility. John Lynch, former Tampa Bay safety, is a strong candidate, as is Isaac Bruce, a top receiver on the Rams' "Greatest Show On Turf" teams in the late 1990s/early 2000s. Clay Matthews, ex-Cleveland Browns' linebacker who had a brilliant career, is a dark horse candidate but I feel he is more than deserving. My fifth and final choice is a real long shot who really should get serious consideration – former Bills' special teamer Steve Tasker. He is in his final year of regular eligibility and truly redefined the position of "special teams maven".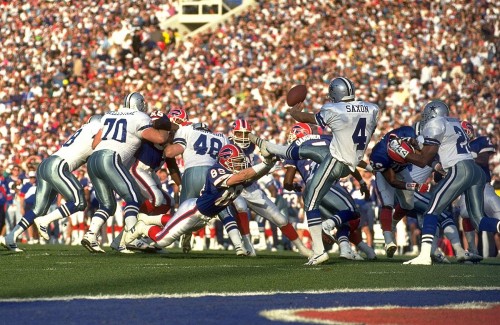 Steve Tasker (89) blocks a punt in the Super Bowl
Looking at the senior candidates, even though expanding the number of players to be enshrined should help some long-overlooked men finally get in, the semifinalists named left off some that should have been considered long ago. Jim Marshall, Roman Gabriel, Maxie Baughan, Jim Plunkett, Lee Roy Jordan and Walter Johnson are all Hall-worthy players who didn't make the semifinal list of 20. The Hall's list includes some early era players I'm not familiar with, so my 10 players are going to be mostly guys who were in the NFL post-1950s. I've got 4 wide receivers on my list who I feel belong. They were called "split ends" or "flankerbacks" when they played. Three of them played in what I consider to be the Golden Age of pro football, the 1960s through the 1980s. They are former Raider Cliff Branch, ex-Eagle Harold Carmichael and Drew Pearson of the Cowboys. The fourth is an old-timer, Mac Speedie, who was a star on the dominant Cleveland teams of the 1940s and '50s, catching passes from Otto Graham. The next 3 of my choices played on the defensive side of the ball. Alex Karras, former Detroit defensive tackle, should have been inducted long ago, but was probably hurt by his suspension for gambling in 1963. Pittsburgh safety Donnie Shell is another deserving candidate. As Jerry Kramer of the Packers was held back until last year by the large number of his Green Bay teammates already enshrined, Shell has been the victim of the numbers game when it comes to the amount of 1970s Steelers already in the Hall. He is more than deserving to go in with this senior class however. The last defensive player, and seventh overall of my senior picks, is linebacker Randy Gradishar of the Broncos. A stalwart of Denver's "Orange Crush" defense of the 1970s, he has been long overlooked. My eighth choice is the player on the semifinalist list who is most deserving, former 49er back Roger Craig. He was a great all-around back who played a major role in San Francisco's dominant era of the 1980s and '90s. For my last 2 choices, I had to do some heavy research, since I knew very little about the old-timers on the list. One pick is Cecil Isbell. He quarterbacked Curley Lambeau's Green Bay  teams of the 1930s and was a prolific passer in a run oriented era, hooking up with Hall of Famer Don Hutson. My other choice is Duke Slater, a five-time All Pro tackle in the 1920s. He played mostly for the Chicago Cardinals and was the first African American lineman to play in the NFL.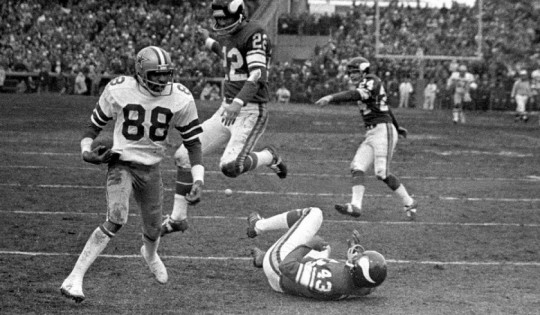 Drew Pearson (88) with a "Hail Mary" reception
Moving on to the coaches, one of my 2 choices stands out like a sore thumb. Tom Flores won 2 Super Bowls as head coach of the Raiders, yet is never mentioned in the same conversation as coaches like Bill Parcells or Jimmy Johnson. Johnson is on the semifinalist list but he isn't one of my picks. My second choice is Don Coryell, who never won a championship but was an offensive innovator who belongs in the Hall. Coryell was a tough choice, as Buddy Parker also deserves consideration. He coached the last Detroit Lion teams who had any success, winning 2 championships in the 1950s for that franchise. His later years in Pittsburgh were not very successful so Coryell edges him out.
Of the contributors, my main pick is the late Steve Sabol of NFL Films. Along with his father Ed, who is already enshrined, they ushered the league into the media age with their masterful images of game action, using slow motion video, the music of Sam Spence and narration from the "Voice of God", John Facenda, to bring true drama to the game. Frank "Bucko" Kilroy and George Young are my other choices. Kilroy was a long-time executive with 4 different franchises. He also was a good enough player to be named to the All Decade team for the 1940s. In all, his career in the NFL spanned the decades from 1943 until 2007. Young was a five-time Executive of The Year, and as Director of Player Personnel in Miami and GM of the New York Giants, was a part of 3 Super Bowl-winning organizations. Two men on the list who I didn't consider are Art Modell and Art McNally. Modell earned the wrath of Cleveland fans when he moved the Browns to Baltimore and there is already protesting among fans that the NFL is trying to "back door" him into the Hall against the wishes of Cleveland, and other, fans. McNally was a long-time official who probably should be considered for enshrinement but my view is that officials should have their own place of "honor" outside of Canton, like maybe in the zoo with the other zebras.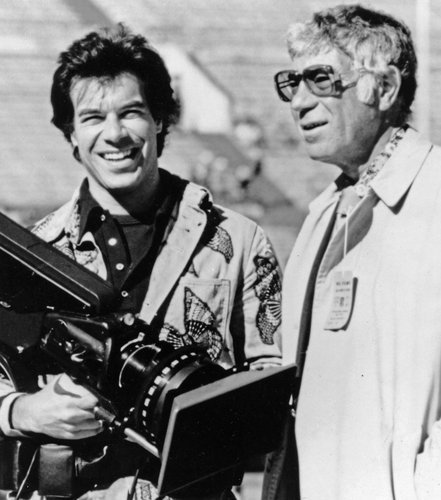 Steve and Ed Sabol of NFL Films