In today's NFL, wide receivers are putting up unprecedented numbers for receptions and yardage with such a heavy emphasis on the passing game. Today's NFL 100 subject is a player who thrived in the passing game in an era that was mostly the old fashioned "three yards and a cloud of dust" style of play. He is Don Hutson, Green Bay Packers' split end in the Curley Lambeau dynasty days of the 1930s and 1940s. His numbers pale in comparison with the 100+ catch seasons that the best receivers are putting up today, but even with his more pedestrian statistics some of the numbers stand out. When he retired after the 1945 season, Hutson owned 23 different NFL records, 13 of which he still holds. His best season came in 1942 when he caught 74 passes for 1,211 yards and 17 touchdowns. The 17 receiving TDs still ranks tied for 5th on the all time single season list. He averaged 24.9 yards per reception in 1939, an amazing total for that era. His 99 career receiving touchdowns rank 11th on the all time list, but he and Steve Largent are the only players in the top 12 who didn't play in the pass-happy 1990s/2000s. Coach Lambeau's Packers relied heavily on their passing attack, with quarterback Arnie Herber and later Cecil Isbell hooking up with Hutson and Johnny "Blood" McNally, with Hutson being the main weapon. As with most players of his era, Hutson excelled on both sides of the ball. He played safety on defense, led the NFL in interceptions in 1940 and had 30 career picks. He also served as the team's placekicker, and stayed on as an assistant coach for Green Bay for 5 seasons after retiring as a player.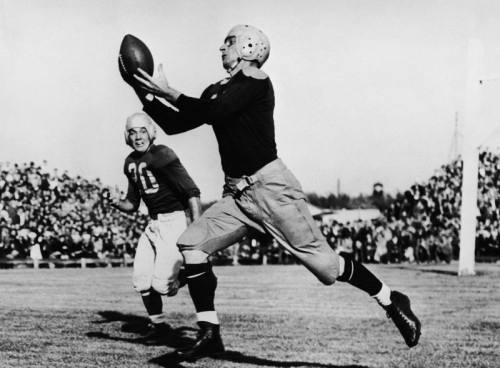 Don Hutson snares a pass for the Packers
Take a look at his 11 year career resume and it's easy to see that he stacks up as one of the greatest players in NFL history, despite playing in a long forgotten era: Three-time NFL champion, eight-time All Pro, two-time NFL Most Valuable Player, nine-time season leader in receiving touchdowns, eight-time single season receptions leader, seven-time receiving yards leader, NFL All Decade Team for the 1930s, Packer Hall of Fame and jersey # 14 retired, NFL's 75th Anniversary team, member of Pro Football Hall of Fame's inaugural class of 1963, and recently named one of 24 wide receiver finalists for the NFL's 100th season All Time team. He is almost certain to be chosen as one of the 10 players for that honor. For his contribution to the modern passing game alone, Hutson is without a doubt one of the game's true pioneers.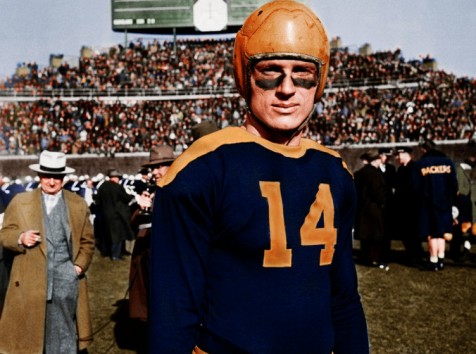 Don Hutson's eye black game rivals today's players