The subject of today's NFL 100 feature is a man who almost singlehandedly turned around the fortunes of a struggling franchise, the Pittsburgh Steelers. That man was Chuck Noll, a no-nonsense, unassuming coach who disdained the spotlight. For that reason, he often gets overlooked in many discussions of greatest coaches of all time, but he certainly belongs there. Noll is considered a branch of the coaching "tree" of two of pro football's most innovative minds – Paul Brown and Sid Gillman. He was an undersized offensive lineman while playing for Brown's Cleveland Browns' teams in the 1950s, and was used by Brown as a "messenger guard" to bring in plays from the coach to his quarterback, one of the legendary coach's many innovations. Brown once said that Noll was a such a smart player that he could've just let him decide what play to send in rather than giving it to him. Brown's "coaching tree" includes some all-time greats, namely Noll, Don Shula, Lou Saban, Weeb Ewbank and later in Cincinnati, Bill Walsh. Noll's playing career lasted 7 years, all with the Browns, and included 2 championship seasons. He decided to retire at age 27 to hopefully begin a coaching career at his alma mater, the University of Dayton. To his surprise, Dayton didn't offer him a job but the head coach of the Los Angeles Chargers of the new American Football League, Gillman, asked him to join his staff as an assistant. That staff included 3 future Pro Football Hall of Famers in Gillman, Noll and Al Davis.
1960 Chargers' coaching staff – Gillman kneeling, Joe Madro, Chuck Noll, Al Davis, Jack Faulkner
Noll worked on the Chargers' staff for 6 seasons, a stint that included 5 championship game appearances, before moving on to Baltimore to become the Colts' chief defensive coach (they didn't designate them as "coordinators" back then), under Don Shula. His star began rising quickly at that point and within 3 years he got the head coaching job with the Steelers in 1969. The franchise was one of the worst in the NFL at the time, and would be moving over to the American Conference in 1970 when the merger of the two leagues became final. He didn't find instant success there, either, as his first 3 seasons ended with losing records, including a one-win season in his first at the helm. The club showed gradual improvement and Noll and the front office used that time to load the team up with future stars. They added Joe Greene, Terry Bradshaw and Franco Harris and in the 1974 draft they plucked 4 future Hall of Famers in Lynn Swann, John Stallworth, Jack Lambert and Mike Webster. The franchise eventually turned the corner and became the dominant force of the league in the 1970s, winning an unprecedented 4 Super Bowls. Their "Steel Curtain" defense regularly shut down opponents and not only did they rule the decade, they never looked back to their losing ways in their early years. Noll coached from '69 until he retired in 1991 but he set a standard for consistency and winning in the Steel City that still exists today. They've only had 2 more coaches since Noll – Bill Cowher and Mike Tomlin, each of whom has also won a Super Bowl. The shy, unassuming coach, who passed away in 2014, should be remembered as one of the greats of the game in its' first 100 years.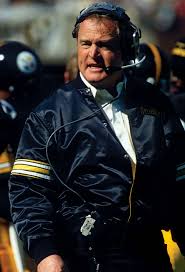 Steeler legend Chuck Noll