Over the 100 years of the National Football League's existence there have been many memorable characters who have graced the playing fields across the league, and also have had an impact on society after their playing days. Some have done heroic things on the battlefields of war, some have gone on to become Supreme Court justices or Congressional representatives or vice presidential candidates. Then there are those who simply used their post-football lives to entertain us. Alex Karras is one of those. His football career was a stellar one. He played 12 seasons for the Detroit Lions and was a six time All Pro and a member of the NFL's All Decade team for the 1960s. He is one of those players who is inexplicably absent from the Pro Football Hall of Fame. His credentials say he should be in the Hall, but it's possible that a one year suspension he received in 1963 for "gambling and associating with known gamblers and hoodlums" may be what has kept him out. That argument loses weight, hwever, when you consider that Green Bay's Paul Hornung, who was suspended along with Karras, is a Hall of Famer. Before his football career, Karras had been a pro wrestler, and during his suspension he returned to wrestling to make a living for the year.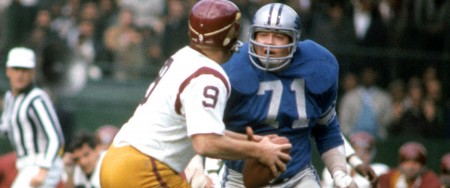 Alex Karras harasses Redskins' Sonny Jurgensen
When he returned to the Lions in 1964, Karras was one of the team captains and when an official once asked him to call the pregame coin toss, he replied, "I'm sorry, sir, I'm not permitted to gamble." During his playing days, he was not only a great player but a source of entertainment for his teammates with his outlandish storytelling. The NFL and the upstart American Football League had just agreed to a merger in 1966, and the Packers defeated Kansas City in the first Super Bowl, so the NFL was feeling pretty superior at the time. The Lions were scheduled to meet the AFL's Denver Broncos in the 1967 preseason, and a cocky Karras proclaimed that if his team lost to the Broncos, one of the upstart league's worst franchises, he would walk home from Denver. The Broncos surprisingly won the game, and Karras backtracked and flew home with the team. His oddball personality was on display again when the Lions were featured in the movie Paper Lion starring Alan Alda as writer George Plimpton, with Karras and other Lions playing themselves. He parlayed his zany personality into a successful acting career after his playing days ended in 1970. He made several appearances on The Tonight Show with Johnny Carson and had numerous guest parts on television shows. He went on to enjoy a career in movies, with his most memorable role being the character Mongo in the Mel Brooks Western comedy Blazing Saddles where he knocked out a horse with one punch.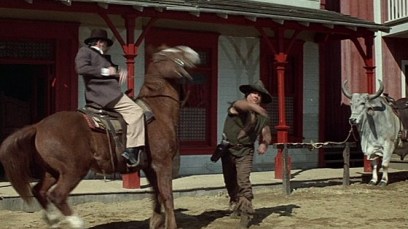 Mongo knocks out a horse
He also appeared in Blake Edwards' Victor Victoria, Porky's and the TV movie Babe where he played the husband of famous female athlete Babe Didrickson Zaharias. In 1974 he joined Frank Gifford and Howard Cosell as an analyst on Monday Night Football, and held that role for 3 seasons. He also starred with his wife, Susan Clark, in the television series Webster, playing the adoptive parents of Emmanuel Lewis' character. In his later years, Karras was out of the spotlight, suffering from serious health issues including dementia, heart disease and cancer. He was one of 3,500 former NFL players who filed a lawsuit in 2012 against the NFL over physical damage caused by untreated concussions and repeated blows to the head. He died of kidney failure on October 10, 2012. Although he is one of many NFL players of bygone eras who sacrificed a lot to grow the game into what it is today, he is also one who will not soon be forgotten.
Karras with the Monday Night Football crew