In this year's celebration of the NFL's 100th season we've highlighted many iconic figures from the league's history, with many more still to come. Today we showcase the life of an extraordinary man who built, from scratch, the team that became known as "America's Team", the Dallas Cowboys. That man is Tom Landry, whose stoic look on the sideline of Cowboy games wearing his trademark fedora was well known from the team's inception in 1960 until he was unceremoniously dumped by Jerry Jones in 1989. Jones had purchased the franchise and wanted to hire his old college teammate, Jimmy Johnson, as coach. His move turned out to be the right one, as the Cowboys had declined in the 1980s and Johnson wound up leading the team to a pair of Super Bowl wins. Nevertheless, Landry's legacy was cemented despite the lack of respect he received from Jones. He had built the Cowboys into a model franchise, with an organization that exemplified class and put winning above all else. His team rose from an expansion club in 1960 to a playoff contender by 1966, when they ran off a streak of 7 division titles in an 8 year span. From '66 until 1985 the Cowboys were a playoff team 18 times, and won 2 Super Bowls in 5 appearances. Landry's story begins before his Dallas days. He enlisted in the Army Air Corps in World War II in honor of his brother, who had been killed in a plane crash while serving. He became a bomber co-pilot and between November of 1944 and April of 1945 completed a combat tour of 30 missions, which included a crash landing in Belgium when his plane ran out of fuel.
1st Lieutenant Tom Landry, US Army Air Corps
As a player, Landry was with the New York Yankees of the AAFC for a season, then joined the NFL's New York Giants as a defensive back in 1950. He played until 1955, but also was a player/coach in 1954 and '55, before becoming a full-time member of the Giants' coaching staff in 1956, holding the position that today would be considered the defensive coordinator. The Giants' top offensive coach at the time was Vince Lombardi. It was in the job of lead defensive coach with the Giants that Landry's reputation as an innovator took root. He is credited with inventing the 4-3 defensive alignment that is prevalent in today's game, with Hall of Famer Sam Huff playing the critical middle linebacker role. Landry's Giant defensive units were one of the NFL's best from '56 to '59 when he was coordinator, leading to his being hired as the first head coach in Dallas Cowboy history when they entered the league in 1960. Among his innovations in his 29 seasons in Dallas were the invention of the "Flex" defense, which involved players on the defensive line flexing to different positions depending on where they thought the play was headed. That defense was reliant on "gap control", in which the players were assigned to cover a gap along the line of scrimmage. That philosophy is widespread in the modern game. Although his background was on the defensive side of the ball, Landry's teams also were innovative on offense. He dusted off the "shotgun" formation which had been used in earlier years but became dormant as defenses began to learn how to counter it, and also implemented the use of multiple shifting and motion to confuse opponents. He was the first to employ a strength and conditioning coach, and to begin assigning assistant coaches to specific positions. The Cowboys were the first team to use a quality control coach, who specialized in studying upcoming opponents on film and did self-scouting of the Cowboys themselves. Of course, innovations only work if a team is winning, and the Cowboys did plenty of that during Landry's tenure. He was a winning coach and a tremendous organizer, building the Cowboy brand into the widely-known "America's Team", a label they proudly embrace today. Landry was inducted into the Pro Football Hall of Fame in 1990, taking his rightful place among other gridiron giants of the 20th century.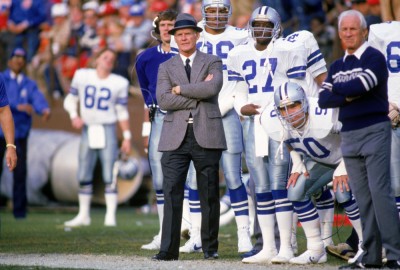 Tom Landry, always dapper on the Cowboys' sideline