His name isn't well known among younger fans of pro football, but the subject of our NFL 100 post today is one of the greats of all time. Playing in an era when rosters were small and there wasn't the specialization that there is today, Trippi was more than the usual "triple threat" type of player common at the time. He was a "quintuple threat" who could run, pass, catch, punt and play defense. Drafted by the old Chicago Cardinals in 1945 as a "future" pick, Trippi joined the team in 1947, spurning offers from the All America Conference's New York Yankees and professional baseball to sign with the Cards. He was an immediate success, leading the Cardinals to the 1947 NFL championship. He played mostly as a running back but over his career also played quarterback, defensive back, punter and kick returner. Trippi had been a star in college at Georgia, but like many men at the time his football playing was interrupted by service in the military. Chicago had drafted him with the agreement that he would finish his college career before joining the pros. When he finally joined the team, he completed their "Dream Backfield" along with Paul Christman, Pat Harder and Marshall Goldberg, with Elmer Angsman joining at a later date. The Cardinals won the Western Division title in '47 and defeated Philadelphia in the championship game with Trippi making the biggest contribution. Wearing basketball shoes on an icy field, he totaled 206 yards and scored a pair of touchdowns on a 44 yard run and a 75 yard punt return.
Charley Trippi racks up yardage
His playing career lasted 9 years. After playing left halfback for his first 4 seasons he moved to quarterback in 1951, then moved back to halfback and later to defensive back, basically doing whatever his team needed him to do. His final season was in 1955, and it wasn't a pleasant one. In the preseason he was injured while being tackled and suffered a smashed nose, concussion and a protruding bone behind his eye that gave him double vision. He played only 5 games that season and it was the least productive year of his career. His overall play ranked among the best of his generation however, as he was twice named All Pro, twice played in the Pro Bowl, was named to the NFL's All Decade team for the 1940s and won championships in both college and the NFL. The Cardinal franchise is one the league's originals, and even being in existence for all 100 years, Trippi is arguably the greatest player in team history. He also served the franchise as an assistant coach from 1957 until 1965, when they were in St. Louis. He was enshrined in the Pro Football Hall of Fame in 1968, and at 97 is the oldest living member of the Hall, and also the oldest living former number one overall draft choice.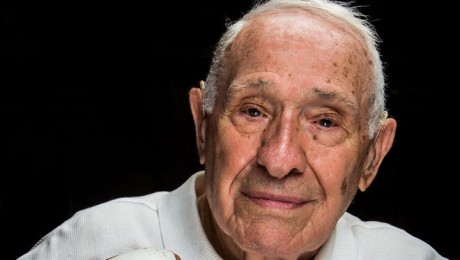 Trippi, 97, the oldest living Hall of Fame member