Our subject for today's NFL 100 feature was known as "Sweetness". He is the late, great Chicago Bears running back, Walter Payton. He came out of Jackson State as a high first round draft pick and was an immediate success, being named to the Pro Bowl in his second season in 1976, and then winning Pro Bowl MVP. He followed that up by winning the NFL Most Valuable Player Award in 1977. In a memorable game that year he rushed for 275 yards against the Minnesota Vikings, despite having a 101 degree fever and the flu, breaking O.J. Simpson's previous mark of 273 yards. Payton's individual rushing success didn't translate into wins for the Bears until they hired the fiery Mike Ditka as head coach in 1982. Payton continued to thrive under Ditka, and the Bears began to win consistently. "Sweetness" broke the career rushing record of 12,312 yards by Jim Brown in 1984. Emmitt Smith eventually took over the top career rushing yards spot, but Payton is firmly entrenched at #2. The Bears reached the top of the mountain in 1985 when they won the Super Bowl in convincing fashion, 46-10, over the New England Patriots. Ditka has said that one of his biggest regrets was that he didn't allow Payton to score a touchdown in that game. (William "The Refrigerator" Perry DID score a TD).
"Sweetness" soars over the pile for a touchdown
Ditka has been quoted as saying that Payton was not only the greatest player he ever coached, but also the greatest human being. His abilities on the field were unmatched. Not only was he one of the greatest runners of all time but also excelled as a receiver and blocker. He threw for 8 career touchdowns on halfback option passes. He was an all around football player. His list of accolades is long: Super Bowl winner, nine-time Pro Bowler, NFL MVP and Man of The Year, member of the NFL's All Decade Teams for both the 1970s and 1980s, and named to the NFL's 75th and 100th Anniversary teams. He was inducted into the Pro Football Hall of Fame in 1993. Unfortunately, Payton became gravely ill, suffering from a rare liver disease, and died at the young age of 45 in 1999. He spent the last months of his life advocating for organ donation. His family has kept his memory alive through a charitable foundation that supports causes such as Christmas toy donations to underprivileged children , organ donation and fighting cancer. He is also remembered in the football world with 2 awards named for him. The NCAA gives the "Walter Payton Award" to the best offensive player in Division I-FCS and the NFL hands out the "Walter Payton Man of The Year Award", honoring a player each year for his play and community service. That award is considered the most prestigious honor a player can receive among the players themselves.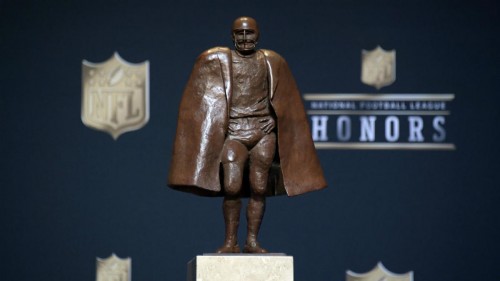 The Walter Payton Man of The Year Award