Buffalo General Manager Brandon Beane continued his quest to build a Super Bowl-winning roster in Las Vegas over the weekend at the NFL's annual college player draft. The Bills are in a position where they have a championship caliber roster and other than  maybe cornerback, just needed to find a few pieces for depth and to help them get over the hump. Here's an analysis of the choices they made:
Round 1 – Kaiir Elam (CB, Florida) – good cover corner with versatility and NFL bloodlines as both his father and uncle played in the league. Cornerback is the top position of need for the Bills, and Elam will have a great opportunity to win a starting job in his rookie year, replacing the departed Levi Wallace.
Round 2 – James Cook (RB, Georgia) – some scouts compared him to the Saints' Alvin Kamara due to his ability to both run and catch passes out of the backfield. Another player with NFL bloodlines as his brother is Vikings' RB Dalvin Cook. He is more of a breakaway threat than any back currently on the Bills' roster. A definite positive addition to the running back room, and there's a good chance he develops to the point he is RB1.
Round 3 – Terrel Bernard (LB, Baylor) – an undersized linebacker who covers the field from sideline to sideline and is a solid tackler. He may be a replacement for A.J. Klein, or could even be an eventual replacement for Tremaine Edmunds depending on how the Bills view him long term.
Round 5 – Khalil Shakir (WR, Boise State) – a great value at this spot in the draft, he has good run after the catch ability and makes highlight reel catches, although he will need to work on cutting down on dropped balls. Along with Cook, he is another weapon for Josh Allen to use in exploiting opposing defenses.
Round 6A – Matt Araiza (P, San Diego State) – the "Punt God" was considered the best punter in the draft and was surprisingly the third one chosen. He's left-footed and has a booming leg. He can also placekick even though the Bills don't have a need there. He should have the inside track to win the punting job over the disappointing Matt Haack.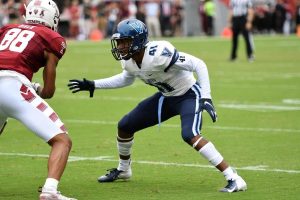 Round 6B – Christian Benford (CB, Villanova) – a little-known prospect from a school better known for producing basketball players. The Bills have a need for depth at the position and Bernard has shown a knack for being around the ball, racking up 14 interceptions in his college career. He will have to make the transition from small school competition to the pros.
Round 6C – Luke Tenuta (OT, Virginia Tech) – The Bills apparently like extremely large offensive linemen, as he is the third 6'8 player drafted by them in the last 2 years. He can also play on the inside at guard, where the Bills can use some added depth.
Round 7 – Baylon Spector (LB, Clemson) – another undersized linebacker with a high motor. Buffalo seems to be seeing the need for lighter, faster backers who can cover as opposed to bigger hard-hitting tacklers who specialize in stopping the run. A practice squad candidate if nothing else.