We here at Rayonsports  have decided to do a first round only mock draft of college players into the NFL, with the picks made alternately by Rayonsports correspondents Connor Pohlman, Josh Pohlman, Scott Prelewicz and Ray Prelewicz. Due to various trades, several teams have multiple picks in the first round. Those teams are: Miami Dolphins, with 3 choices, and Minnesota Vikings, Jacksonville Jaguars, Las Vegas Raiders and San Francisco 49ers all with a pair each. Also, each of our contributors will offer a complete 7 round draft for the hometown Buffalo Bills, to be published sometime prior to the actual selection process. Here is how we see the opening round of this year's draft, held "virtually" because of the Covid-19 virus, shaking out:
Cincinnati Bengals (Connor Pohlman) – Joe Burrow, QB (LSU)
Washington Redskins (Josh Pohlman) – Chase Young, EDGE (Ohio State)
Detroit Lions (Scott Prelewicz) – Jeffrey Okudah, CB (Ohio State)
New York Giants (Ray Prelewicz) – Tristan Wirfs, OT (Iowa)
Miami Dolphins (CP) – Justin Herbert, QB (Oregon)
Los Angeles Chargers (JP) – Tua Tagovailoa, QB (Alabama)
Carolina Panthers (SP) – Isaiah Simmons, LB (Clemson)
Arizona Cardinals (RP) – Mekhi Becton, OT (Louisville)
Jacksonville Jaguars (CP) – Derrick Brown, DT (Auburn)
Cleveland Browns (JP) – Jedrick Wills, OT (Alabama)
New York Jets (SP) – Andrew Thomas, OT (Georgia)
Las Vegas Raiders (RP) – CeeDee Lamb, WR (Oklahoma)
San Francisco 49ers (CP) – Jerry Jeudy, WR (Alabama)
Tampa Bay Buccaneers (JP) – Javon Kinlaw, DT (South Carolina)
Denver Broncos (SP) – Henry Ruggs III, WR (Alabama)
Atlanta Falcons (RP) – C.J. Henderson, CB (Florida)
Dallas Cowboys (CP) – Kristian Fulton, CB (LSU)
Miami Dolphins (JP) – Josh Jones, OT (Houston)
Las Vegas Raiders (SP) – K'Lavon Chaisson, EDGE (LSU)
Jacksonville Jaguars (RP) – Jeff Gladney, CB (TCU)
Philadelphia Eagles (CP) – Justin Jefferson, WR (LSU)
Minnesota Vikings (JP) – Noah Igbinoghene, CB (Auburn)
New England Patriots (SP) – Jordan Love, QB (Utah State)
New Orleans Saints (RP) – DeAndre Swift, RB (Georgia)
Minnesota Vikings (CP) – A.J. Epenesa, EDGE (Iowa)
Miami Dolphins (JP) – Denzel Mims, WR (Baylor)
Seattle Seahawks (SP) – Trevon Diggs, CB (Alabama)
Baltimore Ravens (RP) – Grant Delpit, S (LSU)
Tennessee Titans (CP) – Yetir Gross-Matos, EDGE (Penn State)
Green Bay Packers (JP) – Tee Higgins, WR (Clemson)
San Francisco 49ers (SP) – Xavier McKinney, S (Alabama)
Kansas City Chiefs (RP) – Patrick Queen, LB (LSU)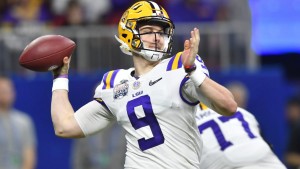 Joe Burrow, LSU QB,  consensus top pick on most draft boards
Some highlights and surprises of this mock draft: Miami passing up Tua to draft Herbert (what happened to Tank For Tua?), New Orleans causing consternation in the Dolphins' war room by snatching up Swift, the top available RB, two picks before the Dolphins, and the number of wide receivers (6) and cornerbacks (6) chosen. Five offensive tackles are included, a sign of how that position is becoming a premier one in the league. National champion LSU and Alabama have 6 players chosen each. Also, a question posed – would the Patriots have drafted a quarterback regardless of whether Tom Brady left or not? We'll check back after the actual draft to see how close we came to the actual selections.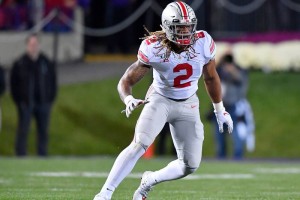 Chase Young of Ohio State, consensus #2 pick some consider best player available